WEST LONG BRANCH, N.J. – We are just about five weeks away from the "showcase of the immortals", meaning now is the time that the WWE will begin to put together the match card. There are many story lines that should be under speculation between now and April 2nd, but here are a few things that seem to be set in stone.
Brock Lesnar vs. Goldberg
This one we could have seen coming, as the two have been building up their feud since Survivor Series back in November. It is almost silly to even call it a feud, as Goldberg dominated Brock both times they were in the same ring together. At Survivor Series, Goldberg beat Lesnar in under two minutes by hitting him with both his signature spear and jackhammer suplex. WWE then built the story back up again as both competitors would be facing off again in the Royal Rumble match.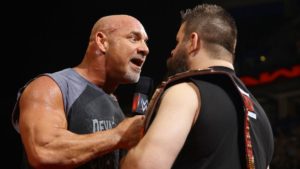 However, it was no contest, as Goldberg eliminated Lesnar with ease. There's been another crutch thrown into the drama as well: Goldberg is slated to take on Kevin Owens for the Universal Championship at the Fastlane pay-per view in early March. Signs are pointing to Goldberg taking the win, in order to make the match between him and Brock that much more meaningful at Wrestlemania.

Seth Rollins Knee Injury
Die hard wrestling fans are extremely upset about this as it now seems as though Rollins will not be able to compete for the foreseeable future due to the knee injury he sustained a few weeks ago on Raw. WWE has been building up his feud with Triple H for months, as the cerebral assassin screwed Rollins out of the Universal Championship over the summer. Rollins has been consumed with rage ever since and was determined to get his hands on the chief operating officer of WWE. It is clear that WWE views Rollins as the future of the company, but now there are definitely questions on whether or not he'll be able to stay healthy. He just reinjured the same knee that he had reconstructed 15 months ago and is in jeopardy of missing his second consecutive Wrestlemania. There's still no official word on the extent of his injury, but hopefully it will not be a lengthy absence.
Who will be Raw Women's Champion?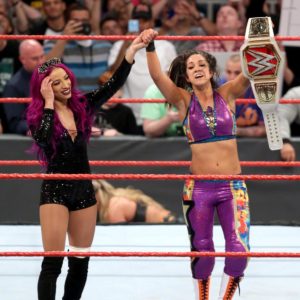 After retaining her Women's Championship at the Royal Rumble, Charlotte Flair improved to a remarkable 16-0 in championship matches at pay-per views. Other than maybe Trish Stratus or Lita, it's overtly clear that Charlotte is the most athletically gifted women's wrestler of all time. However, Bayley just beat Charlotte on Raw this past Monday (with a little help from Sasha Banks) to win the Women's Championship and now appears poised to hold the title through Wrestlemania.
Samoa Joe, Roman Reigns and Braun Strowman
There is still much to be settled between now and April 2nd, but if Goldberg does indeed win the Universal Championship at Fastlane, then that leaves Roman Reigns out of the title picture come Wrestlemania. Braun Strowman has been feuding with Reigns for weeks now, including annihilating him on Raw a few weeks back. Samoa Joe just burst onto the scene and it's going to be interesting to see where WWE places him as we move closer to the big night. If I had to guess I would say Reigns will fight Strowman at Wrestlemania and Samoa Joe will begin to feud with Kevin Owens. All this is predicated on Owens losing his title at Fastline. If he happens to retain, then look for the three mentioned above to be involved in the title picture. Much more will be revealed after Fastlane.