WEST LONG BRANCH, N.J. – From February 17 to the 19, the NBA sponsored the All Star Weekend 2017 at the Smoothie King Center in New Orleans. The action packed weekend marks the halfway point of the season. The All Star game allows athletes to be voted in by the fans, players, and the media, to compete in a high-scoring match up, amongst some of the greatest in the game.
The West had taken down the East 192- 182, in an offensive showcase where players were looking like they were avoiding playing defense. All seemed right after Kevin Durant lobbed a pass up to Russell Westbrook for an alley-oop. Hometown favorite Anthony Davis had won MVP and scored the most points (52) in an all-star game since Wilt Chamberlain (42) in 1962.
Before the game that took place on Sunday night, there was a skills challenge, a 3-point contest, and a dunk contest that left us feeling unsatisfied Saturday night.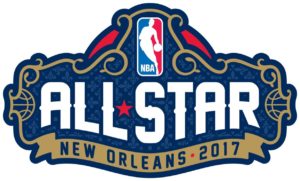 The skills challenge encompasses a little bit of everything: passing, shooting, ball handling, and a little bit of laying-up. In a battle between the big men in the league and the guards, it was 7-foot-3 Kristaps Porzingis who came out on top over Gordon Hayward. Porzingis defeated Demarcus Cousins first, and then took care of Nikola Jokic by launching in a three to seal the victory right before Jokic was able to. Gordon Hayward had beaten both point guards John Wall, and then Isaiah Thomas before falling short to Porzingis.
The three-point contest was next, and returning to defend his crown was Klay Thompson of the Golden State Warriors. Thompson ended up falling short in the first round, as did Nick Young, Wesley Matthews, C.J. McCollum, and Kyle Lowry. Kemba Walker, Kyrie Irving, and Eric Gordon all advanced to the final round, which was a shootout. Walker fell short, while Irving and Gordon had to settle it in a tiebreaker for the first time since 2014. Gordon ended up beating Irving by a 3-point margin.
Before the dunk contest, the NBA took the time to honor the late announcer, Craig Sager. Celebrities including Michael B. Jordan and DJ Khaled, gathered with some current players, such as James Harden and Demar Derozan, to shoot from beyond the arc. Each 3-point basket that was made, $10,000 was raised for the Sager Strong foundation. After time expired, $130,000 was accumulated.
Steph Curry was then invited to half-court to drain a shot to up the donation to $500,000. Unfortunately, he was unable to hit the shot after multiple tries but Shaq Diesel had lifted up Sager's younger son to dunk, which raised the donation to $500,000 anyway.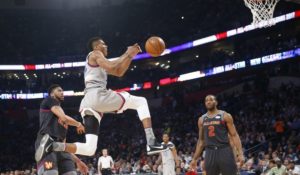 The dunk contest had so much potential. Aaron Gordon returned to avenge his controversial loss to Zach Lavine last year. The stage was set for greatness, and highlights to replay on ESPN forever. Gordon's original idea for his first dunk included a drone. What had seemed like a great idea, ended up not working for Gordon at all – it took him four tries to dunk it off a simple bounce from the drone.
After Deandre Jordan and Aaron Gordon were eliminated, the stage had been set for sleeper Derrick Jones Jr. and Glenn Robinson III. After Robinson had just done a dab-dunk, and said the famous Vince Carter "It's over" quote, no one knew what to expect. On the other hand, Derrick Jones Jr. opened up with a dunk over four people, which announcer Kenny Smith discredited him a bit for "pushing off."
Robinson ended the night with an emphatic dunk, leaving the arena as the 2017 Slam Dunk champion.
The biggest gossip of the night, however, did not center around the game. Instead, the focus was on the trade, which sent Boogie Cousins and Omri Casspi to the New Orleans Pelicans. Langston Galloway, Tyreke Evans, and Buddy Hield were also among first and second round draft picks. Additionally, Matt Barnes of the Sacramento Kings was waived.

https://www.youtube.com/watch?v=HgWKqJgwA40