WEST LONG BRANCH, N.J. – Flannels, angst, ridden lyrics and sloppy guitars are once again back in style, thanks in part to an underground resurgence of 90s influenced Emo and Grunge bands popping up at Warped Tours and basement shows all across the United States.
What was once 'old' is now new again to Millennials. Bands such as Title Fight, Citizen, Tigers Jaw and Balance & Composure have taken the look and sound of bands that were popular around the time a majority of today's band members were born. This new youth movement in the Rock scene is known as Post-Grunge or Emo Revival, depending on which style of 90's rock is the greater of influence to the act.
Many of today's bands grew up listening to acts that ruled the Mid-2000's Emo scene and dominated Warped Tour's all across the country, but while they grew up listening to New Found Glory and Finch, they dug deeper and became influenced by the artists that had influenced their favorite bands. Artists such as Sunny Day Real Estate, Hum and American Football, whom all haven't been relevant since the Clinton Administration, are now being listened to and picked apart by a whole new generation.


Aside from the influence in sound, many of today's bands also have acquired the Do-It-Yourself mindset of the bands of the 90's. According to the Chicago Reader, Emo revival band, The World Is a Beautiful Place and I am No Longer Afraid to Die, debuted at number three on the Billboard heat-seekers chart this past August. The band was able to accomplish this based off of word of mouth marketing thanks in part to social media outlets and booking tours in small venues such as basements and VFW halls, which eventually helped them get signed to independent label, Topshelf Records.
"I feel like the scene is definitely headed in a good direction", said Joe Pezzano, a longtime fan of Emo music. "A lot of these bands really do care about what they are doing and really care about staying true to their fans."
The typical fan of an Emo revival band is typically in their mid/late-teens to mid-twenties and can be seen dressed as a cross between what one would consider a 'Hipster' and a 'Hardcore' kid, clashing flannels with shorts and beat up baseball caps. This generation of Emo fan replaces the previous generation of Emo fans, which became famous for the commercialization and dilution of the sub-genre. The fear of becoming a fad just like it has in the past, is something of an underlying fear for many involved in the scene, but many feel that it is inevitable.
"Like any other genre that holds a strong influence over the music scene, it will pass in favor of whatever the next revival will be", said Emily Tantuccio, a student at Rutgers University and a Photographer who works heavily in the genre. "We watched it happen a few years ago with All Time Low's and Boys Like Girls' success and suddenly every band is incorporating a pop rock influence; but of course, that's not what's cool anymore. Now it's about the grunge kids and the pop punk kids, but…that fizzled out too, as this will in time."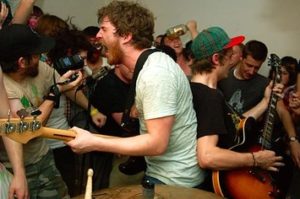 Not everyone feels, as if this budding scene will end up like its predecessor, however. "I personally do not think it's a fad but I know there are people who come into the scene acting like it is a fad and just jumping to the next thing" said Pezzano. "It's not a popularity contest; people have to start realizing that."
Fad or not, the shelf life of this 'new' scene appears strong. Title Fight are already being praised as inspirations for artists in their own scene; members of Brand New are seen as legends in the scene and recently sold out Starland Ballroom! Also, acts like Balance & Compsure, Pity Sex, Touche Amore and Daylight are expected to be the next big break out acts to help bring this revival into fruition. Big things are in store for the music world, even if the ideas are not entirely new, per se.