WEST LONG BRANCH, N.J. – On Dec. 12, students from the Monmouth University Street Team (MUST) braved the cold while handing out free hot chocolate to students passing by in celebration of National Hot Chocolate Day.
Outside of the Rebecca Stafford Student Center, students could make a quick stop to grab a cup of hot chocolately goodness, complete with marshmallows, whipped cream, and peppermints to top it off – but not without first sharing something they were celebrating in their own lives, whether it be a holiday, good grades, or just surviving the semester.
MUST is a group of students who are dedicated to spreading positive experiences on campus. Brandon Suk, a sophomore at Monmouth University, said the purpose of MUST is, "To get students to talk about bigger ideas, and to get more involved on campus."
Each month, MUST chooses a different theme for events, and prompts discussions in fun ways based on this theme. This month's theme, 'Celebration,' made students think deeper about things or events in their life they were happy about.
Monmouth University junior, Chris Kelly, said, "It's important to have events like this that celebrate everything and the little things in life, and it's not just about the big days around the holiday season. It's about the little things in life that are important to you."
On a day before finals week and winter break, an event like this, which brings out 'warmth' and a positive atmosphere, becomes a welcomed change from the stressful life of the semester. Easing those troubles, are apart of the group's message.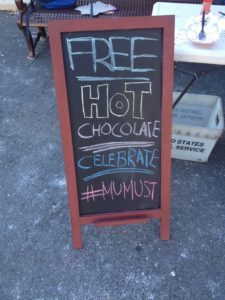 "One of the general purposes of events like this is to get people thinking more about tougher topics that they usually wouldn't talk about in their everyday lives or their everyday conversations with friends, so it's almost a jump starter to get people talking and thinking about bigger events and bigger ideas," said Kelly.
While getting students to have conversations with people they do not know is not the easiest task, the reward of free hot chocolate seemed to do the job!
"We've had numerous students come to the table already. We've gone through a lot of hot chocolate, and they've all had their own input in sharing about celebrating," said Suk.
They also gave out to-go bags with hot chocolate mix, marshmallows, and a note that asked the reader, "What is added to your life that makes it so sweet?" The note in the bags also included the hashtags #MUMUST and #MUSTCELEBRATE to encourage students to share what they were celebrating on Twitter and Instagram.
Throughout the semester, MUST has held several different events that encouraged students to talk to other people, and express thanks and gratitude.
In the beginning of the semester, MUST had a ball pit where students could meet other students in an unconventional way.
"We had students come in and sit in the ball pit with us, and then we had different questions on the balls, and we'd ask them to start a conversation and get to know other people," said Monmouth University graduate student, Anna Farruggia.
Other events this semester included a day dedicated to filling out postcards to people that students were thankful for and another event where students could give bracelets to other students to express thanks and gratitude.
Keep your eyes open next semester for more 'MUST' events around campus to get involved, talk to new people, and stay positive during the school year; and sure, this is cliche, but the club's a definite 'must'! You need to experience for yourselves.
For more information about getting involved with the group, contact Susan Bennett in Student Services.