(The Verge) – It's that time of year again and with the holidays right around the corner, we know you want to plan ahead. So, are you seeking some great gift ideas? If so, read on!
We all have that one friend that already has everything, and buying them gifts is virtually impossible. There are plenty of practical, affordable things to spruce up your Christmas this year, especially as Monmouth's final day of exams leaves a few full days for shopping. So without further adieu, here is my list (in no specific order):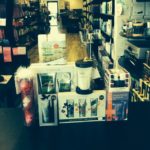 1) Caudalie Vine Body Luxury Set  
Grab this $43 value for only $28, including the vine body butter and the hand and nail cream. The vine body butter is ultra-nourishing, repairing and soothing. The moisturizer contains nourishing butters, grape-seeds, and Shea butter, repairing dry skin and soothes rough spots and tightness. It has an addicting scent of sweet orange zest, peach pulp, carrot and iris and will leave you feeling soft and nourished. The hand and nail cream is for those who want a rich, anti-aging treatment for their hands and nails to soften, hydrate and protect.
2) Rodial Super-Food Hand & Lip Kit
Similar to the Caudalie set, but directed on nourishing the Hands and Lips. Focused on hydration, his set is absolutely perfect for the winter months for your dry and cracked lips and hands. With a $43 value, the product is actually sold at only $26, a price that is unbeatable!
3) Ahava Bright and Merry Ornament Hand and Body 


It's just so cute. A travel size dead-sea water mineral body lotion and hand cream "ornament" form. You can literally hang it on your tree with the attached ribbon on the top accompanied by a "to and from" tag. If you're saving your tree for beautiful decorative ornaments…stick this perfectly sized stocking-stuffer in a lucky girl's stocking!
4) Caudalie Holiday Divine Oil and Hand and Nail Cream Duo
And we're back to Caudalie (a personal favorite)! This product duo is the perfect price and size for a stocking-stuffer. The set includes 1 travel size divine oil and 1 travel size hand and nail cream (who knew people cared about their hands and nails this much). The divine oil is multi-use miracle oil that is primarily a dry oil for the skin but is also great for your hair, your nails, your bath and massages. It has a beautiful scent and leaves your skin moisturized, soft and glowing.
5) Klorane Dry Shampoo Oat Milk Aerosol Travel Set
This set includes three travel dry shampoos and is the perfect size for a stocking. Only $15 for a $22.50 value. Dry shampoo essentially washes your hair without water. It's perfect for reviving a style gone flat, or for refreshing after being caught in bad weather. It is useful when you don't have time to shampoo, or if you simply prefer the second-day texture is useful for adding volume to flat hair, or calming poof when hair is super clean. It gently absorbs excess dirt, oils and product build-up from hair and scalp and nourishes with oat extracts.
6) Bliss Merry 'Citrus' Gift Set
A $47 value for only $32! This is the perfect price for the perfect gift. The set includes a full size "soapy suds," which is a body wash and bubble bath, a full size body butter maximum moisture cream and a loofa! With a fragrance of spicy citrus, it'll 'shower' you in holiday cheer from head to toe. The set also comes in two other scents: Zest Wishes and Berry Bubbly.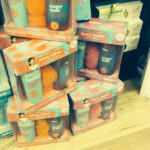 Also pictured is Caudalie hand cream trio. The set includes three travel size hand creams in different scents and sells at $25. The Essie winter collection set, which includes four miniature nail polishes from Essie's latest winter collection. It's really hard to go wrong with nail polish for gifts because everyone likes the same colors and everyone wants to buy it but would never really waste the eight dollars for a bottle of their own. The set is $17 and perfect size for a small gift or stocking stuffer! Finally: the beauty-blender Holiday Candy Cane Trio, a little pricey at $49.95 ($60 value) but totally worth it for three of them! Beauty-blender is the first ergonomically designed non-disposable sponge applicator that allows you to flawlessly apply your makeup. It allows you to access hard-to-reach areas with stunning ease and results in a flawless complexion. It also saves your make-up where foundation brushes tend to waste a lot of product. The trio comes with two original beauty-blender sponges and one pure sponge.
With the harsh winter elements taking a toll on your style, keep your look fresh and healthy with some of these quality gifts, at unbeatable prices. Get in the spirit of giving with some of these practical, pampering presents. Happy holidays and happy shopping!