WEST LONG BRANCH, N.J. – Internships are commonly regarded in the educational community as valuable learning experiences. While the idea of an unpaid position may not appeal to most students who are already living off of a ramen-noodle-every-night salary, the innumerable advantages that accompany internship experience tend to overshadow salary, particularly in today's competitive job market.
According to Melissa Benda, Director of Career Services at Marymount Manhattan College in New York City, internships are essential in today's economy.
"Graduating students with paid or unpaid internships on their resume' have a much better chance at landing a full-time position upon graduation," stated Benca in an article from CNN.
Monmouth University's Dr. Rebecca Sanford, Assistant Chair and Associate Professor in the Communication Department, recommends that students participate in at least one internship during their time in college.
"At least ten of my students have had really positive experiences interning and those internships lead to a full time position after graduation," stated Dr. Sanford.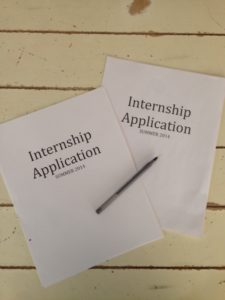 In order to decide if an internship is the right thing for you, it is important to understand all of the sides of interning.  Here are a few pros and cons of internships to help you make that decision.
Pros:
Build your resume: As college students or recent college grads with limited work experience, internships allow students the opportunity to build their resume. Internships are valuable to employers and it could be the deciding factor between you and another candidate when competing for a job.
Networking: In regard to job-hunting, the popular adage "It's all about who you know" rings true. Building a strong and diverse network of professional associates gives you an edge in today's job market. Interning allows young professionals to network with industry veterans and build a valuable professional network.  This will come in handy when you are looking for references or while applying for jobs.
Test-drive your career: Internships are unique in the fact that they allow you to try on a career for size with little commitment.  Internships come with an expiration date.  If at the end of your internship you realize that the particular company or field that you interned in isn't the right fit for you, you have the ability to shake hands, thank your employer, and walk away. It is better to realize what is and isn't right for you now than ten years into your career. Should you end up having an amazing internship experience that confirms your career choice, then not only were you able to provide yourself with some assurance, but you were able to gain valuable, hands on experience in your field, network, and establish your presence within the company as a possible hire.  That's a win-win situation!

Cons:
Little to no pay:  Although more and more internships are beginning to offer salaries to their interns, many internships are unpaid.  The majority of college students are on strict budgets as it is. To add an unpaid position into the equation can sometimes stress an already tight financial situation.
Menial labor:  Internships are an amazing opportunity to gain real world experience in your chosen field.  That is, however, if you are allowed to participate in work that applies to your field. Internships have earned the reputation as using interns to make coffee runs, shred paper, and other menial tasks. Should you end up in an internship where you learn more about making coffee than writing press releases, then questioning the value of your experience is understandable.
Now that you understand both sides of the world of interning, hopefully you are better equipped to decide whether or not an internship is the right career choice for you. For additional information and a valuable networking opportunity attend Monmouth University's Communication Career event March 3 at Wilson Hall from 2-6 p.m.  Registration begins at 1:30 p.m. Don't miss this amazing opportunity to network with industry professionals and begin researching internships.
Video by Caitlyn Bahrenburg