WEST LONG BRANCH, N.J. – "A friendly desert community where the sun is hot, the moon is beautiful, and mysterious lights pass overhead while we all pretend to sleep. Welcome to Night Vale." And so opens the first episode of the "Welcome to Night Vale" podcast series — a twice-monthly podcast series that airs on the first and the 15th of every month.
The series is broadcast as a nightly radio news program for the fictional desert town of Night Vale. Each episode consists of a subplot as well as some other features such as traffic reports, a word from our sponsors segment, the weather and a portion dedicated to musical performances received by submissions.
In an interview with NPR,  one of the show's creators, Joseph Fink, said, "[The idea was] a town where all conspiracy theories are real and we would just go from there with that understood." Night Vale can easily be compared to something out of "The Twilight Zone." The show has some very bizarre occurrences and features rather strange citizens. For example, the infamous Night Vale Dog Park that opens in the first episode is closed to all residents and dogs alike.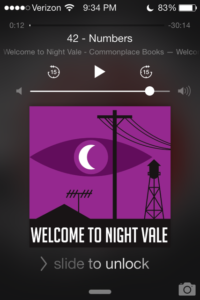 In a later episode we learn, "Citizens are not even supposed to be consciously aware of the dog park." Memorable characters such as Carlos the Scientist, Old Woman Josie, The Angels, and Hiram McDaniels, a five headed dragon wanted for insurance fraud, frequently come up in the news.
Lately, the show has also featured some celebrity guest voices such as Mara Wilson, who plays the voice of the Faceless Old Woman Who Secretly Lives in Your Home and Jasika Nicole, who plays Intern Dana.
Cecil, the voice of Night Vale and the radio host, provides listeners with city updates, messages from the Sheriff's Secret Police, as well as friendly reminders such as safety from librarians. "Remember, if confronted by a librarian while looking for a book to check out, do not attempt to escape by climbing a tree. There are no trees in the library. And the precious moments it will take you to look around and realize this will allow the librarian to strike. Don't become a statistic."
The podcast is free to download, although donations are accepted and appreciated in order to support its production. Starting in 2013, the producers and the cast of the show began doing live performances in major cities around the country where audiences can hear live readings of the script.
What is so interesting about "Welcome to Night Vale" is the popularity it has received as a podcast. It seems we live in a time where visuals and special effects are the only captivating feature about modern entertainment, yet a show that requires you to sit down and tune out the sounds around you has risen to such great popularity, hence its continued production.
The Night Vale fandom has a very strong presence on popular social media sites such as Tumblr. What makes "Welcome to Night Vale" such a big hit?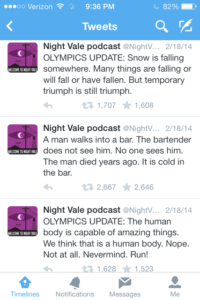 Monmouth University Senior, Meghan Hughes, said, "It's (quite) surreal. I like how it can almost seem somewhat normal, but then there are these advertisements that are really out there and all of the sudden you're on this (sort of) mind…trip."
Hughes went on to describe the podcast series stating, "It's what I imagine the audio version of a surrealist panting would be."
Rebecca Groom, senior, came across the series from a quote she saw on a friend's Twitter, "I ended up Googling what the quote was and I came across the podcast. I listened to an episode and I was hooked." Groom also shared the reasons why she has continually tuned in, saying, " I'm really into science fiction, so all these weird things happen in the town but I love how Cecil brings it in so casually. It almost feels like NPR the way it's reported, but it's on odd stuff. They convey the plot extremely well with just one person (relaying) everything."
The Night Vale podcast series has been around for over a year. It remains a top-ten international download for the iTunes store.
The show runs from anywhere between 20 and 30 minutes in length. Currently, there are 42 free episodes on the iTunes store. There is also a special one-hour episode called "Condos" available for a donation of your choice.
Now, everyone: Tune in and see what Cecil has for us this evening…
Video Created by Will Brucella