WEST LONG BRANCH, N.J. – This spring, a musical is bringing a little green and a little gore to Monmouth University. The Department of Music & Theatre is producing "Little Shop of Horrors, The Musical", a musical filled with catchy tunes that will have you toe-tapping and dancing in your seat.
"Little Shop", by late writer and Disney icon, Howard Ashman, and composed by Alan Menken, is a comedy rock musical about a "strange and interesting new plant" that feeds off of human flesh and blood. "Little Shop" is a playful parody of 1960's horror films, and its talented cast certainly delivers the quirky comedy. Director Maurice J. Moran and Music Director, George Wurzbach, produced a successful opening debut of the musical on March 5.
The play's pre-show opened the musical with two winos, Steven Lang and Bob Davies, who drunkenly lazed on the set, and kindly reminded the audience to turn off cell phones and find emergency exits. The set of the show was particularly interesting, and crafted to portray a street on shabby, urban 'Skid Row,' with Mushnik's Skid Row Florists, at stage center.


A godlike voice announced the start of "Little Shop," bringing the audience to a time and place where human kind was threatened by an seemingly innocent, but dangerous enemy. Three 60's inspired street urchins, lead the opening, title song "Little Shop of Horrors", a warning that predicts the gruesome events to occur.
The three urchins, Ronnette, Chiffon and Crystal are played by Jasmine Walker, Devon Henry and Mahalia Jackson (respectively), who bring with them energy, glitz, and superb vocals. The trio warns onlookers, "Everybody better beware…she's gonna get you!" as the shop-front set piece spins around to reveal the interior of Mushnik's Florists.
Mr. Mushnik, played by Nick Zaccario, is trying to save his struggling business which is garnering no customers and zero profits. Zaccario is a freshman Theatre Arts and Communications (TV/Radio) double major. He played the part of Mushnik during his senior year in high school, and was thrilled to be offered the part in Monmouth's production of "Little Shop".
"My first musical experience at Monmouth has been absolutely incredible," said Zaccario. "I love to perform, as does all of the cast, and it is very fitting that my first musical theatre role at Monmouth is in a show as goofy and funny as this one."
The main protagonist of the story, Seymour, played by Brandon Wiener, is an innocent, lovable young fellow who works at Mushnik's shop. Wiener is a junior studying Theatre Arts at Monmouth University, who was very excited to audition for "Little Shop" when it was first announced.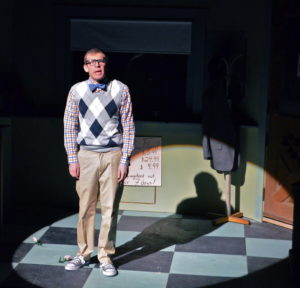 "I have never been in the show before but I have seen many productions of it and I used to watch the movie over and over again when I was little," said Wiener. A wide audience can relate to Seymour's intense desire for success and his yearning to impress the girl of his dreams, Audrey, who also works at Mushnik's.
Audrey, played by Brooke McCarthy, works alongside love-struck Seymour, but  feels loyal to her sadistic, abusive boyfriend, Orin the dentist, played by Michael Rosas. Orin is fueled by his ridiculous ego, and doses of nitrous oxide, which cause Rosas to erupt in fits of manic laughter, which in turn, infect the audience as well.
McCarthy is an Accounting major in her senior year at Monmouth, who has been involved with the Theatre Department since her freshman year.
"Working on this show has been a ton of fun. The entire cast gets along so well, which helps add chemistry and fun to our stage performances," said McCarthy. "Even with less practice time due to all the crazy snow days, we've been able to successfully rehearse the show."
Miraculously found by Seymour, Audrey Two is the "strange and interesting new plant" that draws not just attention from the town…but blood. The plant holds a significant presence in this show, as the audience sees it grow to a monstrous size.
Audrey Two is brought to life by several puppeteers during the show, who skillfully handle the vicious vegetable. Rebecca Wilson, Megan Van Tine and Steven Lang each control Audrey Two as she proceeds to become larger, and hungrier. Nick Rossi provided the voice of the plant, and wonderfully performed songs such as "Git It" and "Suppertime", as anthems for Audrey's every-growing appetite.
"Little Shop" is sure to keep audiences laughing, and leave catchy numbers stuck in your head long after the show. Walker, Henry and Jackson grace many songs with their lively, lovely harmonies including Act One's "Downtown (Skid Row)". McCarthy shines in her performance of "Somewhere That's Green" and the popular number "Suddenly Seymour," along with Wiener and the rest of the cast.
"The cast of Monmouth's production is so unbelievably dedicated and incredibly talented," said Zaccario. "Words cannot even express how grateful I am to have worked alongside all them and I am honored to have been a part of this cast of amazing people."
"This show is great for everyone to see because it's family friendly plus it's far from your typical Broadway musical," said McCarthy. Don't miss your chance to see this delightfully dark musical! "Little Shop of Horrors" runs in the Lauren K. Woods Theatre March 5 – 8 and 11 – 13 at 8 p.m. For tickets, visit monmouth.edu/arts or call (732) 263-6889, and don't forget, current Monmouth University students can attend the show for free!