WEST LONG BRANCH, N.J.– Advocates working to raise awareness of the recent kidnappings of hundreds of Nigerian schoolgirls have taken to social media to voice their cause.
According to USA Today, on April 15 over 300 teenage schoolgirls were kidnapped from the Chibok Government Girls Secondary School in Nigeria. Boko Haram, an Islamic militant group, whose name translates to "western education is a sin", carried out the kidnappings. According to the group's leader, Abubakar Shekau, Boko Haram intends to sell the girls as brides for $12 each. This mass kidnapping is a part of the group's effort to dismantle the secular Nigerian state and replace it with an Islamic state.
News of the kidnappings sparked global outrage, causing high profile supporters such as Michelle Obama, Sean P. Diddy Combs and Ellen DeGeneres to take to social media and express their support for the abducted girls. In a campaign titled #BringBackOurGirls, advocates for the safe return are able to raise awareness and garner support for the cause, through popular social media outlets such as Instagram and Twitter. Thus far, #BringBackOurGirls has been tweeted over one million times, according to Mashable.com.
#BringBackOurGirls was first coined by former Nigerian government official and Vice President of the World Bank for Africa, Oby Ezekwesil, when he stated "Bring back the girls," at UNESCO's opening ceremony. From that first utterance the slogan has grown into what some critics have claimed to be one of the biggest movements since 2012's Kony, according to the Washington Post.
High profile advocates are essential in establishing support for the #BringBackOurGirls platform. For example, according to Sky News, the First Lady Michelle Obama's tweet, "Our Prayers are with the missing Nigerian girls and their families," was re-tweeted and favorited nearly 60,000 times within 12 hours of being posted.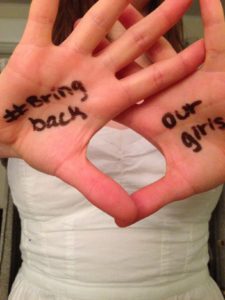 While the #BringBackOurGirls campaign is not aimed directly at the leaders of Boko Haram, as they are unlikely to be convinced of the cruelty of their actions via tweet, it is a plea directed at the Nigerian government, which has been unsuccessful in its battle against the militant group, thus far. It is the hopes of advocates that international pressure will cause the Nigerian government to retaliate against Boko Haram and safely return the girls home, according to the Washington Post.
Despite the popularity and prevalence of the campaign, many have begun to question the efficacy of promotion via social media and whether or not #BringBackOurGirls is having any significant impact on the Nigerian kidnapping crisis. A story that was once ignored by news outlets throughout the world has become a sensationalized story and social media hot topic.
Many critics of social media acting as a form of advocacy, wonder if campaigns like #BringBackOurGirls are merely trends that have the potential to dissolve quickly.
In regard to the recent phenomenon utilizing social media as a soap box, which has not been uncommon in the past half-decade or so, Washington Post coined the term "slactivism" or the act of advocating for a cause through the laziest means possible.
Are the days of marching in the streets and passive resistant sit-ins gone? Have blow horns and handmade signs been replaced by 'hashtags' and Facebook pages? How effective can a 'hashtag' truly be in the battle against atrocities such as the Nigerian kidnappings?
Outgoing Verge Editor-in-Chief, Dan Gunderman, said, "I would agree with WaPo's 'slactivism' term, in that there is more that activists can do to effect change, but raising social media awareness is not useless. It is constructive in its own right, but should not be a means to an end. I think it could also help greatly with the ongoing ethnic conflict in South Sudan."
Despite criticism of the #BringBackOurGirls campaign, the kidnappings' visibility in the media is undeniable.  Whether members of social media will continue to offer their support and maintain that level of visibility remains to be seen.