WEST LONG BRANCH, N.J. – As another school year comes to a close, The Verge staff would like to recognize the hard work and dedication of its very own Editor-in-Chief, Dan Gunderman. Although Gunderman's career at Monmouth University is drawing to an end, there is a bright future awaiting him, as he plans to continue his writing and education.
Editor-in-Chief Dan Gunderman has been involved with The Verge since Fall 2011, and after six semesters of hard work and dedication, it is time for him to say farewell to Monmouth. Gunderman started out as the first Political Columnist for the site, covering the primaries for the 2012 presidential election. He then became the site's first Multimedia Editor, and later moved up to Assistant Editor under former Editor-in-Chief, Tom Ranzweiler, in December 2012.
Under Gunderman's direction, The Verge has added a code of ethics, an 'About Us' page, and has expanded the practicum portion of the club. The Verge has also successfully had a presence at open houses and involvement fairs. Further, this semester, The Verge's sign was finally installed above the door in Plangere's online writing lab!

Over the past few years, The Verge has had to deal with a few challenges, like competing with other clubs who have an online presence, finding a niche as an online magazine, finding time to have the staff meet in person, and becoming stricter with submission regulations.
"It takes a lot to run an entire website, but managing your time appropriately and working to keep it interesting and fun is always key," said Gunderman. Overall, running The Verge has been a great experience for Gunderman. "I believe that The Verge has been such a wonderful resume' booster. I believe it also helped me to get a full-time, paid internship with Patch.com last year. It has allowed me to not only grow as a writer, but also as an editor and someone who must be a leader," he said.
Gunderman will be graduating with honors with a major in Communication and a minor in History. He also worked as Assistant Sports Editor at The Outlook his freshman year, and has been involved with the On-Screen and In-Person Film Series (OSIP). Aside from working with Patch.com, he also has worked at the legislative office of State Senator Jennifer Beck, and completed the Dow Jones News Fund Program in Kentucky in the summer of 2013.
In celebration of his journalistic skills, Gunderman was the recipient of the "Best Sports Writer" award in 2012 and of "The Verge Leadership" award in 2013. Most recently, he was awarded the Department of Communication's Excellence in Journalism Award and Writing Award for the 2013-2014 academic year. Gunderman was also inducted into the Lambda Pi Eta Communication Honor Society.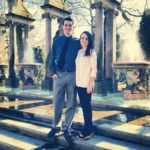 Looking to the future, Gunderman aspires to become a full-time editor or literary agent at a publishing house, while writing on the side. After graduation, he plans to enroll in an MFA program in Creative Writing. He was just recently accepted by Fairfield University in Connecticut!
As Gunderman's time with The Verge comes to an end, we wish him the best of luck in his future endeavors!