WEST LONG BRANCH, N.J. – Move over bags, shoes and every other nifty item; there is a new accessory it town!
Fingernails have come out of the dark (or they're going into it) and are becoming bolder than ever this season! Last summer we were "shattering" and "crackling" our nails thanks to OPI and China Glaze, and it was such a hit that people wanted more.
The industry is starting to see 80's-style nail art come back in style, but with new flavor stones, designs, and deep oxbloods. Don't worry, Easter egg pastels will be painted on the trendiest nails everywhere come spring.
Let's start with oxbloods… huge right now. Everyone has always loved the darks; OPI's Lincoln Park after Dark and Essie's Wicked have always been popular near-black shades, but this winter the deep dark rich reds are in. From Essie's winter collection "Shearling Darling" the shade, which is featured as the title, is the perfect oxblood for all the winter months.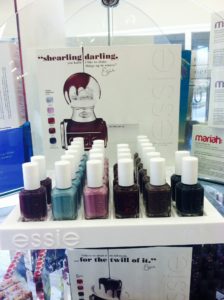 Also, Deborah Lippmann's "Just Walk Away Renee," inspired by Renee Zellweger, is just ravishing. Further, although Mariah Carey's OPI Winter Collection is a bit sub-par, along with her other collections, her "Visions of Love" does deserve some praise. Its dark, "oxblood" shade is powerful and charming.
Deep, stormy grays with an olive green undertone are also trending this season. For one, there is Essie's winter collection in "Mind Your Mittens," which is a green/gray perfect for winter that's sure to be a crowd-pleaser. Also, Deborah Lippmann's "Stormy Weather," a gray with a slight olive tint, might have you hooked.
Another huge trend for the past year or so is the ring finger being painted a totally different shade rather than just a simple design that salons have been doing for years. This trend really blew up last spring, but don't expect it to really go anywhere in the near future.
Black French manicures: this fall and winter, they are taking over the fashion world. A normal nude/pink French base with a black tip– simple, yet fabulous.
It doesn't stop there, the newest and most innovative version of the nail design to hit the fingertips are magneffect, hologram, matte, and caviar nails by Layla. They are easy, do it yourself outrageous nail designs that are so beautiful, you can not resist!
Layla Magneffect Nail Polish is formulated to react to the magnet on the top of the cap, creating instant, three-dimensional designs in seconds. It comes in 24 shades and it is not a favorite, but it still creates a cool, unique effect. The hologram is a flash of light and shining rainbows highlighting whichever shade you choose. Hologram Effect Nail Polish will capture the light around you adding a whole new element to nail game. Interested?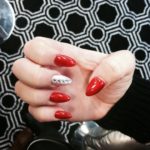 Further, it seems that right now, 'Matte' is everywhere–in shoes, makeup, nails–we cannot escape it. But maybe we don't want to! Layla Matte is a new innovative texture that requires no base or top coat. The company says the manicure lasts up to 11 days, but this seems to be a bit of an exaggeration. A typical manicure chips after three days due to everyday wear and tear. Layla matte comes in 12 beautiful shades and the matte Nior is definitely going to gain attention; it's also a personal favorite.
Last but not least, Layla caviar. The Caviar effect is created by glass beads that cover your nails to create three-dimensional visual effects and amazing nail art in a few simple gestures. Sprinkle colorful and sparkling micro beads onto wet nail polish and finish with a top coat to create your look.Woman everywhere are expressing themselves via their fingertips and there seems to be no break in this trend for the foreseeable future!
Nail polish has become the latest, hippest accessory fad and are making a significant fashion statement. So, the biggest question is, what are your nails looking like?
Feel free to comment below with your own thoughts.