WEST LONG BRANCH, N.J. – The final installment of Monmouth's "ART NOW" series took place March 6 at the Wilson Hall Auditorium featuring Jennifer Levonian. Her work today is displayed and can be seen in the Philadelphia Museum of Art, The National Museum for Women in the Arts and The National Portrait Gallery in Washington, D.C.
In 2009, she was awarded a Pew Fellowship in the Arts. Most of her animations deal with an aspect of repetition and the routine of daily life. The boring routines we find ourselves in, are ones Levonian aims to use, for entertainment purposes.
Her favorite work, an inspirational one to the artist, "Insect Chorus," was created by Charles Burchfield.  Levonian said of the work, "The late summer sound (of) bugs in the ground: I think about it all the time." She uses it as inspiration to create her films.
During her introduction, Levonian spoke about how she got involved in animation. Whimsically, as a graduate student, she decided to take an animation class. Levonian soon fell in love with it and she hasn't strayed from it since. She also spoke about hoping that those who view her films find them not only entertaining, but relatable.
Poetry, Live Chickens and Naked Yoga? 
The first film she presented is called "The Poetry Winner." Its main goal is to depict people's longing for something beyond their own, ordinary lives. In it, a female named Caitlyn is dealing with the most ridiculous customers at her job as a grocery clerk. Their questions and responses to her are exceedingly erratic and irrelevant. For example, one woman came to Caitlyn's counter with a live chicken. She told the woman the store did not sell that kind of chicken,but the woman insisted. "Sure you do," she said. Soon after, Caitlyn comes to a realization: She no longer has to deal with these people."I am a poetry winner," she happily states. Caitlyn then quits her job and dances off in joy.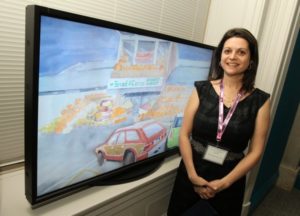 The last film displayed won Levonian a second prize award at the Outwin Boochever Portrait Competition in 2013. It is called, "Buffalo Milk Yogurt," and is about a man having a complete mental breakdown in a gourmet supermarket. Before he even makes his way to the market, viewers see him at his house, blowing items up in his microwave. He than finally loses it at the market. At one point, he puts his head into the sprayer used for keeping the vegetables clean. While there, he witnesses a naked woman practicing yoga. Not long after, she gets tackled and arrested.  It was not one or two, but about ten police officers jumping on her to make the arrest. The market scene from the film also included a dog smiling, wearing a hot dog costume. Surely, humor is ingrained in this script, and humor that is bound to no restraint!
One detail Levonian urged while putting on her 'act' and entertaining the crowd, was that no one should tell her she has loads of free time. Whether in jest, or not, Levonian said she finds it insulting. Something suggests she gets that a lot, yet, her work seems to speak for itself.
Those who view her workshop do come to appreciate the amount of effort dedicated to just a single film. Understanding that realization, Levonian said, to the naysayers who claimed she has too much time, that it's really just a compliment!
She added, "The good thing is that most of those people are my family and friends."
On June 6, she will be one of many filmmakers who will be putting on a workshop for free in California. So, viewers will be treated to additional, and thoughtful Levonian animation. For more information, go to timefarmers.tumblr.com.
  Video created by Shawn McBride; song by His Boy Elroy ("Poetic Justice")