WEST LONG BRANCH, NJ-Team Europe clinched the 2014 Ryder Cup on Sunday, September 28th at Gleneagles in Perthshire, Scotland. Europe has won seven of the last nine times over The United States.
Twelve top players from the United States and twelve from Europe were combined to make a power team to battle against the other to see where the best golfers come from. The Ryder Cup occurs every two years with a venue that bounces between the United States and Europe. This year it was Europe's turn to host the Ryder Cup.
The USA team was combined using The United States point system that determines the top nine players of the 2014 Ryder Cup Team. The team captain, who was Tom Watson this year, chose the last three spots on the team. The Europe team also uses a point system to pick the top nine plays, and their team captain, Paul McGinley, chose the last three players under his discretion.
The Ryder Cup lasted three days, with three different types of play, all which are played in the style of match play. On both the first and second day there are 4 foursome matches and 4 four-ball matches, and on the final day a series of 12 singles matches.
According to the PGA, a four-ball style of play is when all four players play their own golf ball and the lowest score for each team is taken as their score. The foursome style is when each team plays only one ball, and they hit alternate shots until the ball gets into the hole. Singles are when one player from each team goes head to head.
A player obtains points for their team when they win their match; the number of holes won in the match determines match winner.
Many well-known golfers play in this tournament, names like Rickie Fowler, Bubba Watson, Phil Mickelson, Rory McIlroy, Sergio Garcia, and Martin Kaymer may ring a bell. One name that you did not hear was Tiger Woods.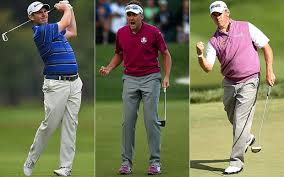 According to an ESPN news service, "Tiger Woods won't be on the American side as he takes time off to rest his ailing back." Woods had a herniation in his lumbar disc and was out of many of the major tournaments this season. Woods said in an ESPN interview "My career is not over, I will play again."
Even without Woods, Team USA held their own against Team Europe, and even though they were behind from the start, they put up a big fight against Europe.
"I am a Team USA fan, and it was awesome to see the fight they put up against Europe in every day of the Ryder Cup," Ashley Navin, a Monmouth University Women's golfer, said.
There were at least 2 sets of halved holes in each day of the Ryder Cup. When holes are halved its an even playing field.
"Each team had their strong players but Europe was just a step ahead every round" a Monmouth University Women's Golfer, Rebecca Gaona said. She said that in the beginning Team USA had a small lead, but they slowly handed over the lead to Europe.  "I didn't want Europe to win but overall they had a better tactic to win as a whole," Gaona said in disappointment. "But they [Team USA] have two more years to get their tactics in order and win on their home soil."
Team Europe will defend their title against Team USA will take place September 25- October 2 in 2016 at Hazeltine National Golf Club in Chaska, Minnesota.