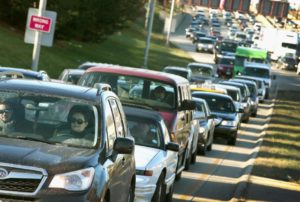 WEST LONG BRANCH, NJ – The transient lifestyles of commuter students often leave them longing for a space of their own at school.  Commuter Club, an organization proposed by MU students that specifically benefits commuter students, offers just that.   20 to 30 MU commuter students gathered to discuss the interest of re-starting the Commuter Club on campus for the first time since 2006  on Thursday, October 23, at 3:00pm, in room 202-B on the second floor of the Rebecca Stafford Student Center.
Students who could not make it to the meeting expressed an interest in the group via e-mail to Vaughn Clay, Director of Off-Campus Services and Adviser for Student Government Association. "I think clubs are most successful when [they're] driven by students," said Clay. "I can put something out there, but if there isn't an interest then no matter how hard I try it's really not going to generate any sustainability."
The goals associated with the Commuter Club vary depending upon the participating students' particular interests, time and skills. "We saw an interest so we're trying to get it [Commuter Club] going again," said Clay. "and I have a couple of students that have been working with me as Student Ambassadors, who are really interested in trying to get it [Commuter Club] going as well."
According to Collegeboard, "Students choose to commute to college for many different reasons. And while commuters are not on campus as much as students who live in the dorms, they can still take advantage of all a college has to offer." A club for commuter students with similar interests to gather and discuss these interests, as well as participate in social activities, would be extremely beneficial to a University like Monmouth with such a large population of commuter students, as described by Collegeboard.
" [The Commuter Club] is like presenting a vehicle for the members of the club so they have some sort of formalized relationship with one another through the club," stated Clay. "In any kind of special interest club that we have on campus, whether it's the Outdoors Club or it's the Transfer Student Club, I think that you're trying to create a platform to allow specific group of students that have similar interests to get together, interact with one another, and to engage with the university experience through that particular club or organization," he added.


Steve Schukin, a Senior Accounting major, is currently a member of a few organizations on campus, but expressed a personal need for more campus involvement. "I planned on getting more involved with my fraternity, but I definitely would be interested in the Commuter Club," said Schukin.
Schukin has been commuting for the last three semesters, and explained that it usually takes him roughly 10-15 minutes to get to campus. However, with extra stops, such as stopping for gas, food, coffee, trains, traffic, and looking for parking, it can take him up to 25 minutes one way. "Since I'm a commuter and a transfer student, I feel like [the Commuter Club] would be a great way to meet new people. And who knows, maybe I can find someone to car pool with," said Schukin.
"Right now I'm just seeing traditional commuter students, like first to maybe second year commuter students who are still trying to find a way to connect with the institution," said Clay. However, commuter students can come in all ages and sizes, varying in grade level, the location of where they commute from, etc.
"When you live in Elmwood Hall, for example," added Clay, "as a resident student, you can just roll out of bed and head over to wherever. You know if there's an event late at night in the student center or there's something going on in the cafeteria. It's easy to do that because you know you're just gonna be able to head back to your residence hall. There's a little bit more planning involved as a commuter student because you have to worry about the weather, what's going on with your family, job or jobs that you have, and try to get your homework done, and all the other different variables."
Allowing students who do not live on campus the opportunity to get more involved, make new friends, acquire leadership positions, and discuss common interests, deems positive results. "Maybe it [Commuter Club] might turn into some kind of mentoring-type of opportunity, where members of the club can work with maybe new commuter students, incoming commuter students, to help them," explained Clay. "They might not want to join the club, but it would be nice to just have a voice to talk to who understands what it is, what it's like to commute, or will be like to commute, for somebody who's never done it before."