WEST LONG BRANCH, NJ- Monmouth University's latest exhibition, displayed in the Art Gallery in the Joan and Robert Rechnitz Hall, consists of selected paintings of Jacob Landau and Hon Eui Chen. The exhibition began on January 20 and will be open to viewing by the students, staff and faculty of Monmouth University until March 7.
Hon Eui Chen was born in a refugee camp on the Thai-Cambodia border then moved to Mississippi at the age of six. Chen's work serves as a microscope through which the audience can get a glimpse of her inner mind; the paintings embody her personal struggle to maintain her Asian heritage while growing up in the American South.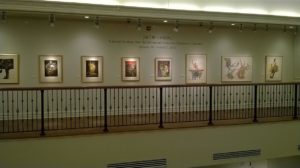 In addition to his career as an established artist, Landau was also a printmaker, painter, humanitarian, and teacher. The paintings in the exhibition display Landau's perspective on fundamental concepts of human nature: morality. Landau experienced various shades of human nature throughout his lifetime including the great cruelty and despair of the Great Depression.  His work not only depicts the greatest challenges of the American life in the twentieth century, but it also portrays the shortcomings of human behavior brought forth by such challenges. Landau's works are featured as permanent collections in the Philadelphia Museum of Art, the Metropolitan Museum of Art, and the Museum of Modern Art in New York as well as many global exhibitions.  A special few of Jacob Landau's paintings were selected from Monmouth University's Permanent Art Collection.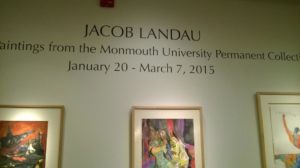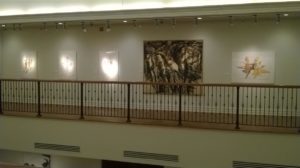 While Chen's works inspire one to explore the otherwise dormant part of one's self identity, Landau's paintings forces one to wonder the details of one's personality. The Art Exhibit has exceptionally elegant and thought provocative pieces on display.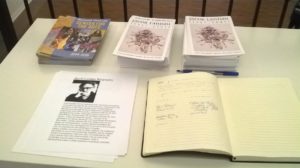 The gallery opens each morning at 9.00 AM and is open until 5.00 PM.  The exhibit will remain intact until March 7.