WEST LONG BRANCH, NJ– Often times it is perceived that the most significant part of a story is it's beginning and it's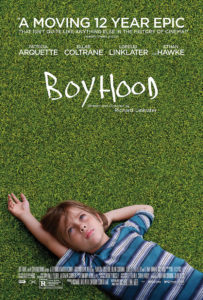 ending. Why spend time focusing on the details and explanations when we can just skip to the ending, which will evidently tell us all we need to know? Why look at life as this extraordinary thing when we all begin and end the exact same way? As the aspect of living is often equated to the organization of a story, dealing with how humans go through struggles and altering experiences just as characters do, it puts into perspective that often times what makes a story remarkable is the journey from the beginning to the end where the depth and meaning of our experiences become clear. In the film Boyhood, director Richard Linklater tells the life story of Mason Evans from age five to eighteen and depict the milestones that go along with the process of growing up in a manner that has never been attempted before in film history.
Boyhood can be described as more of an experience than a film. The main character Mason, played by Ellar Coltrane, grows up before our very eyes in a way that could have only been achieved through patience, determination, and passion from the filmmakers. The plot of the film is simply a look at the life of an ordinary boy as he journeys through the inevitable process of growing up. The film took twelve years to film as they were able to take the same actor and film a little bit each year in order to create something that goes beyond anything audiences have ever experienced.
Beginning with those early childhood years all the way through to Mason going college, Boyhood may not break boundaries dealing with plot twists, remarkable characters, or eye catching special effects, but the emotional response the movie evokes from audiences is one that will be remembered for decades to come. As opposed to other films, the story of Mason's life cannot be spoiled as plots for films often can because it is merely his life. However, this does not take away from the fact that the film is eye catching with regard to its spectacular visual execution as Mason grows up on screen. Patricia Arquette and Ethan Hawke, who play Mason's divorced parents, also age onscreen which ultimately displays the film's message that life is not just about the personal journey of growing up but how the people around us is what makes it all worth the trip.
Though the concept that we reach milestones and move through stages as our lives progress may appear obvious, the relatable details in the film feel nostalgic to both teenagers and adults, who have experienced childhood in its entirety and are able to look back on their experience.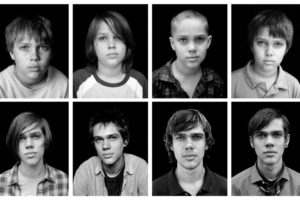 Having grown up in the exact same time period as Mason in the film, the subtle actions and interests he has greatly correspond to the way childhood actually was growing up in the mid 90's.  The film was able to capture the changing time period that Mason grew up in as various forms of technology and popular crazes were displayed as the film progressed. From playing with his Gameboy Advance and buying the current Harry Potter novel in stores, to owning an IPhone, Boyhood was able to harness the aspects that make the film so relatable to our generation and portray them in such a way that allows the audience to look back on their childhood with an infinite number of memories that will make them smile. Boyhood proves that it does not need to mask it's scenes with expensive film technology to keep the audience's attention but can create simple moments that remind us of joyous past memories that we have all had the pleasure of experiencing.
Although the characters in the film reflected those of people we see every day such as mothers, fathers, and friends, the main cast of Boyhood embodied the spirits of those in our lives that play a greater role than we may give them credit for. Patricia Arquette delivered a performance that can be described as both relatable and pure by taking on the role of Mason's mother. Being a struggling mom with two kids while trying to earn her degree, Patricia Arquette portrays the appropriate temperament and attitude that made her character both loved, due to the effort she put in to try and create a better life for her and her kids, and respected, even in the most difficult situations. Having won a Golden Globe and having been nominated for an Oscar this year for Best Supporting Actress in a Motion Picture, it is obvious her character and performance has been recognized for its beauty.
Casted as the distant father of Mason and Samantha, Ethan Hawke lights up the screen by evoking an emotional reaction from audiences to be both sympathetic and forgiving of his character. He was able to show that although Mason's mother looked at him as immature, he deserved recognition for his unconditional love for his children and potential to become a more involved father.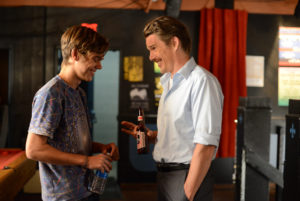 Boyhood has received critical acclaim and has won awards from the Golden Globes, including Best Motion Picture in the drama category and Best Director. Oscar nominations were revealed last week and the film has come out with six nominations, including Best Director, Best Supporting Actress, Best Supporting Actor, and Best Picture. As opposed to other films being nominated this year for awards, Boyhood came out with only a wide release in July and has just recently been released again in limited theaters due to its Oscar nominations.
This film has unarguably left an indelible impact on audiences. This film elicits a range of reactions from the audience with every scene that passes. Its humor, sentiment, and power make us all look back fondly at our childhood.  As Patricia Arquette explained in a featurette about the making of the film, although grand experiences in life such as graduations or marriages are often ways of summing up childhood and even adulthood, maybe "life is the moments in between those big moments" through every passing day. This idea is able to sum up what the film Boyhood is all about and why it will continue to make film history for years to come.