WEST LONG BRANCH, NJ–There are two types of expert skiers: those who ski on the trails and those who ski off of them.
One could argue that the latter are the more skilled, but there is no doubt that they are the more extreme. When Mia Sawyer was growing up in New York, family vacations to the resorts in New England consisted of sticking to the mountain trials.
"Venturing 'off trail,' or skiing backcountry, which is so popular now, was not something that ever occurred to us to do," said Sawyer.
Since then, however, she has become one of the skiers who ride the backside of the mountain, where the double black diamond trails are often unmarked with anything except an understood warning of "proceed at your own risk." She graduated from tackling the comparatively tamer mountains in the East to skiing the Rockies, picking up skills and savvy from resident pros along the way.
"My safety net is that I always go with a guide or locals who know the mountain, the conditions, where to ski and where not to. Or at least it was until recently," she said.
A couple winters ago, Sawyer vacationed to Crested Butte, Colorado, with the family that still prefers to ski the groomed intermediate slopes. She figured she had skied the back bowls enough to be able to find a manageable path down by herself.
"I grabbed onto the no-frills T-bar that takes you there. If this rickety 'lift' doesn't intimidate you, there are signs next to it that read, 'Extreme Terrain, No Easy Route Down,'" she said.
As the manufactured trails faded away behind her, she knew there was no turning back. At the top, she skied over the one of the ridges that accesses numerous trails and bowls, all groomed and varying in difficulty.
"I passed one trail after another, thinking, 'No, t0o steep,' 'No, too rocky,' 'No, too little snow cover,' until I got to the end and realized I was out of options. I had to ski the only trail left. So I went, thinking, 'This isn't so bad,' when the already-sketchy snow turned into big rocks and a cliff," said Sawyer.
She stood at the edge of the 15 foot drop-off calmly realizing that she was proverbially up a creek without a paddle. There seemed to be no other exit strategy than to launch herself off of the ledge into what she could see as a snowy mixture of rocks and trees below–aptly called the Cesspool. It was too treacherous to walk down and too tough to hike back up, especially given the altitude.
"My plan was to wait a little bit, guessing that someone would have to pass by and I could get their advice on what to do," said Sawyer.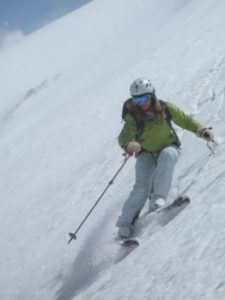 Moments later, she heard the sounds of other skiers and looked up to see a college-age couple on telemark skis coming her way. Upon seeing her, the man and woman stopped. She smiled and said by way of explanation, "This trail is a little above my level."
"Well, you're skiing it," the man replied in a tone reminiscent of the stereotypical stoner. "It's your level now."
He was right. This was her level now. Like Dorothy in Oz, she had everything she needed all along, and his words–including advice on the best way down–just made it click.
"I wouldn't be on this trial if I didn't have confidence in my abilities. No matter how many times I had skied here before, I finally felt I had advanced to being a true backcountry skier with the skills and guts to take on this uncharted territory," said Sawyer.
She skied to the bottom, feeling great about what she had just accomplished, bragging rights and body parts intact.
While Sawyer does not advocate rash behavior, she does believe that by pushing yourself to try new challenges that might be a little scary and stepping out of your comfort zone, you can make it to the next level. It took a wise young ski bum to make her realize that, and now his words have become her mantra.
In Sawyer's case, when life gives you an unmarked double black diamond slope, you sometimes have to summon the guts to just conquer it. But this is also true outside of the mountains that she skis on.
"The mantra has helped me rise to the occasion not just in sports but in life," said Sawyer.
Sawyer spent her career working as an assistant in a public relations office but toyed with the idea of forging out on her own. Not too long ago, she finally took that leap of faith to launch her own company, Sawyer Public Relations. By going solo, she now is responsible for herself as well as her own employees. Her new job has also got her traveling all around the world, trying things she never thought she would. Her latest assignment? Learning how to shoot a three pointer from her NBA client.
"It's like going out on that ledge all over again, half scary, half thrilling," said Sawyer. "Some people may say YOLO." But she just reminds herself, IYLN: It's your level now.
https://www.youtube.com/watch?v=-_TzHDvDcgI