WEST LONG BRANCH, NJ- On Sunday April 12, Monmouth University and Move For Hunger teamed up for a pull a truck event to help fight hunger in Monmouth County. Teams of Monmouth University students joined in a friendly competition of pulling a moving truck through the university parking lot.
The lot was transformed into a block party scene with a DJ, vendor tents and food provided by Bagel Guys Deli and Jacks Goal Line Stand. Students danced, ate, and learned about the hunger issues within Monmouth County.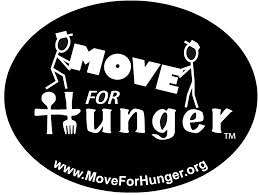 Numerous university clubs, fraternities and sororities participated in the event. Ten different teams put their strength to the test to see who could pull the truck fastest across the finish line. In the end, fraternity Alpha Kappa Psi came in first place with the Community Service Club in close second.
The winning teams received gift baskets packed with gift certificates to Jacks Goal Line Stand, Bubbakoo's Burritos, and other local eateries. The winning teams also received Move For Hunger apparel.
Monmouth University senior and Move For Hunger intern Casey Allocco said, "I have been to a couple of these events in the past through my internship, but this was the first I actually participated in. I was really pleased with the turn out and I think everyone had a really great time. It is always nice to see people having fun while doing something good for the community."
Students were asked to bring canned goods for donation to the Food Bank of Monmouth and Ocean County. The Food Bank of Monmouth and Ocean County helps fight food insecurity by serving 10 million meals annually through 300 different programs.
Move For Hunger is a non-profit organization that works with relocation companies across the country to pick up unopened food and bring it to local food banks. "This was a really great event that will have a positive impact on the community. It is always a delight to hold events with Monmouth University, our partnership has continued to grow and be strong" said Move For Hunger executive director, Adam Lowy.
To help get involved in the fight against hunger, click here !