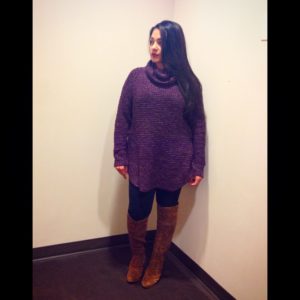 WEST LONG BRANCH, NJ – A new start to the school year is a great excuse to purchase some of the newest fall trends.  With the cold weather slowly approaching, the classic best buys include a great pair of over-the-knee boots and oversized sweaters.  The idea for this autumn is to stay comfortable and chic while enduring your everyday routines.
According to a Huffington Post Canada Article, "Fall Fashion Trends 2014: The Top Styles to Rock This Fall", over-the-knee boots, having drifted in and out of fashion's favor, have once again made the "It" list.  This fall trend is the perfect amalgamation of style and practicality, keeping you warm on those chilly winter walks from the parking lot to class, all while looking fashion forward.  For students or working professionals, it is very important to be snug while getting to their destination.
"It gets really cold over the fall and winter, so walking to class through our large campus with a pair of over-the-knee boots on gives a much needed extra layer of warmth," stated Monmouth University junior Heather Pantozzi.
Another must have this season are oversized, chunky sweaters.  No longer does the jumbo-sized sweater give an impression of sloppiness, but an image of style and class.
Both trends can be worn together to give off a sophisticated yet relaxed look. It's almost effortless to pull off these fashion statements, and for students with schedules so packed that they leave little time for outfit planning, many are thanking the fashion gods that "boyfriend look" is back.  Until now, there hasn't been anything that would make us want to leave our beds more than they comfort of our fall get up.  To walk out of your house, apartment, or dorm, still feeling like you are wrapped up in a blanket is priceless, and the addition of a gorgeous pair of over-the-knee boots makes the outfit irreplaceable and a must have in your closet.
While this combination is a tried and true favorite, separately these pieces can steal the show and be ultra sexy.  Pair  a mid-thigh dress styled with over-the-knee boots, choosing a pair of flat leather boots for a more casual look or a pair of high heeled boots for a dressier statement.  Additionally, the over-the-knee boot comes in many different heel heights, making it extremely versatile.
The oversized sweater also lends itself to versatility.  Pair this piece with bare legs, tights, leggings, skirts, or leather; the outfit combinations are seemingly endless, making the oversized sweater a go-to, staple piece.  The oversized sweater is also great for any number of body type; who doesn't love a garment that works for every woman?
Although it is still technically summer, now is the time that major fashion retailers are offering their fall sales.  So get ahead of the game and go get your must have fall trends while they are still at discounted prices.  For the best deals on all of your fall must-have's, visit Nordstrom, Bloomingdales, Lord and Taylor, Macy's, Urban Outfitters, Free People, Zara, H&M, Forever 21, Hautelook.com, Revolveclothing.com, or Shopbop.com.