WEST LONG BRANCH, N.J.–This past week, Kane Brewing in Ocean, N.J., released presale tickets for their highly anticipated bourbon barrel-aged imperial stout, A Night to End All Dawns. Many believed that this would sell quickly, but no one could have guessed that all 500 presale tickets would sell out in about 10 seconds.
As astonishing as it may sound to sell 500 tickets for a $72 four-pack of beer, it is by no means unusual in the world of craft beer anymore.
Rare or limited beers–or "whales," as they are sometimes called–have become the hottest thing in the craft beer world in the last decade. Gone are the days when beer was just a cheap, pale, and flavorless drink, and here are the days when people line up for hours hoping to get a chance to buy a $50 bottle of rare, flavor-packed liquid.
As an extension of this, rare beer events have become a popular trend as well. One notable example is Three Floyds Brewing's Dark Lord Day, an annual festival where thousands of beer enthusiasts gather and hope to get their hands on a bottle of the exclusive Dark Lord Imperial Stout. Just like Kane's presale, the event typically sells out in seconds as well.
Some people still have not gotten used to the idea that beer is being treated like wine and expensive whisky now, however.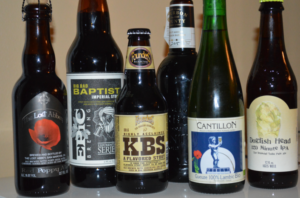 "There's a lot of different things people wait for, like video games or electronic devices, but beer, that's crazy," said Monmouth University senior Will Garry.
So, is the new trend a good thing for the industry? On one hand, it does help the brewers. Selling thousands of dollars worth of beer in a matter of seconds is a huge economic gain for them. Plus, they can continue to raise the prices as the hype grows.
And people do not seem deterred by high prices when going after these beers. Take Goose Island's Bourbon County Brand Stout for instance. In 2014, one could get a four-pack of 12-ounce bottles for about $20, depending on the area. In 2015, the price rose to about $13 per 16.9-ounce bottle. Despite the price change, people still lined up overnight to buy some.
However, rare beer, unlike wine, does not hold much monetary value. Instead, beer enthusiasts often look to trade value. Due to the limited and regional nature of many of these brews, people across the country try to trade beers with others. The more rare and limited beer you have, the better trades you can get.
One bad outcome of the rare and limited beer trend is some outrage by customers. Kane's recent release, for example, is one that sparked controversy. People angrily took to the Internet to denounce the brewery and the way their presale was conducted. Some believed that brewery regulars were getting shut out by putting the sale online. Others even said that they will never give their business to the brewery again.
This is one of the other downfalls of these releases. Breweries are aware that it happens, but they know they cannot make everyone happy. Regardless of how presales, releases, and other events are done, people are almost always going to get angry–that is, until they get their hands on another rare and limited beer.