WEST LONG BRANCH, N.J.–It's possible you're thinking, "What in the world is athleisure?" This new trend is athletic apparel that can be used for what its intended purposes, or for other leisure-time activities such as shopping or grabbing dinner. According to InStyle Magazine, it is going to be the hottest fashion trend in 2016–and celebrities like GiGi Hadid, Kylie Jenner, and Rihanna who are huge on athleisure are only proving that forecast.
Noelle B., a fashion student who attends the Fashion Institute of Technology in New York City, says she sees the trend growing on the streets each day. She passes at least five or six women or men on her way to class that are sporting athleisure apparel.
According to B., the article of clothing that a person should start out with for their athleisure collection is a high-quality pair of workout pants or leggings. She suggests LuLu Lemon brand or a cheaper alternative such as the Victoria's Secret Yoga legging collection. The double fashion major also suggests investing in colorful sports bras. Wearing bright colors or patterns underneath plain colored tank tops can make any outfit more dynamic and fun.
The trend does not stop at tops and bottoms. Sneakers are also essential to completing the athleisure look. Sneaker brands such as Nike and Adidas are rising stars this upcoming year with the trend emerging.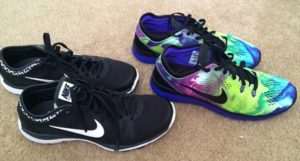 "Sneakers are like the icing on the cake," states B. "Wear a pair of sneakers that are going to compliment the outfit, not put it over the top."
According to Vogue, there are five golden rules of athleisure. The first is to keep up with seasonal trends, ranging from mesh panels in leggings to color-blocking and patterned pieces.
"I think if you're in your 50s and 60s, it's a bit of a risk to put yourself out there and wear something very vibrant that makes a statement," says Onzie designer Kimberly Swarth. "You can start with a geometric print or stick to black, white, and gray and then move into brighter colors as you get more comfortable with it."
The second rule is to invest in pieces that mix function and fashion. This is essentially the foundation of athleisure. For example, fashionistas should wear an outfit that compliments their body in any environment, while wearing something that would suffice for both yoga class and heading into the office for a few hours.
The third rule is to accessorize properly. Throw on a pair of funky sunglasses to spice up any outfit or go for the leather jacket to make that athleisure outfit go from day to night.
The fourth rule is to dress for the occasion. It is ill-advised to walk around in a sports bra and shorts. Instead, make the outfit athleisure-chic by throwing on a mesh tank top or button down sweatpants.
The fifth and final rule is to stick to neutrals.
So there you have it: a trend that's both comfortable and chic. What more could a stylish yet active person ask for? Whether you decide to invest in more expensive pieces or keep it on the cheap side, any athletic piece of apparel will be considered a worthy addition to your athleisure collection.
https://www.youtube.com/watch?v=eGpZn0d8xeI