WEST LONG BRANCH, N.J. – Hosting "Friendsgiving", a.k.a. Thanksgiving for friends, has become a widespread phenomenon in recent years. While most of us are used to celebrating Thanksgiving with our families, many of us have adopted the custom of also celebrating the holiday with some of our closest friends to spread those thankful vibes to everyone in our lives.
As college students, we tend to take the idea of Friendsgiving a little more seriously than most. After all, most of us have formed our own home-away-from-home with a family of college friends, so it seems essential to host our own feast. Plus, no one loves food more than college students, so we jump on every opportunity we can get to over-eat.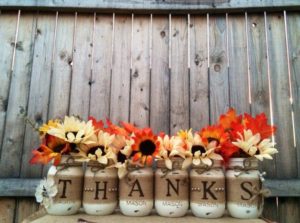 So, what's the secret to hosting the perfect Friendsgiving? One word: Pinterest. As a self-confessed social media and Pinterest addict, I can vouch for how much creativity and inspiration can be found in the depths of endless pins. When it comes to hosting literally anything, Pinterest is sure to be your best friend.
The first thing you should research is crafting ideas. Decorations are key when it comes to Friendsgiving, because in the event that your food is horrible, you want to be able to redeem yourself with a killer table set-up. Pinterest has so many decor ideas that are easy and inexpensive that will help you emphasize that autumn atmosphere. Check out this board for some great inspiration.
The second thing you want to look into is different food options. It's best to have each guest bring a dish to the celebration, but you can blow everyone away by using Pinterest to bring some simple yet delicious recipes to the table. Browse through some of these yummy Friendsgiving treats that will make you wish you feasted like this every week.
Tianna Fougeray, MU student and sister of Alpha Xi Delta, said, "I have a board dedicated to foods I want to try making on Pinterest. My sorority has a 'Sistergiving' each year, which is the same concept as Friendsgiving, and we all bring food to celebrate."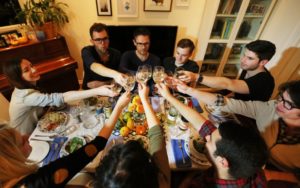 Third, you can look up ideas for photo-shoots you could have with your friends before the food babies show up. While this isn't a mandatory step, it is always nice to capture the hard work you put into hosting a holiday, and to post those pictures on Instagram to brag about how great your friends are. And to mention how much you love them, of course.
This year, don't forget to take a break from studying and give thanks with your Monmouth family for all of the good in your life. Friendsgiving is meant for making memories – and with Pinterest on your side, you can definitely host a celebration your friends will look back on fondly for years to come.