WEST LONG BRANCH, N.J. – It was a Sunday to remember for LeBron James and the Cavaliers, as LeBron won his 10th straight first round playoff series against the Indiana Pacers in a sweep. It was in stellar fashion, and the Cleveland Cavaliers once again were able to jump on the back of King James as he hit a clutch 3 pointer to put the Cavs up with less than 2 minutes remaining. That 3 pointer was the dagger to put the Cavaliers over.
Jeff Teague said, "we ain't getting swept", before the Indiana Pacers' game four matchup with the Cleveland Cavaliers. But unfortunately for them, LeBron James and Cavaliers brought their brooms, because it ended in a sweep. James scored 33 points and Kyrie Irving added 28 as the Cavaliers pulled away in the second half for a 106-102 win over the Pacers to advance to the conference semifinals.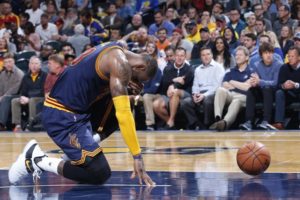 Cleveland won the best-of-seven series, 4-0, its third straight sweep of a first-round series. According to the Bleacher Report, "Kevin Love threw together by far his worst performance of the series, missing 11 of his 13 shots in a dreary five-point performance. Love hauled in 16 rebounds to help out on that end, though, and had a couple of fine outlet passes. The outlet passes understandably drew effusive praise." Luckily the Cavaliers have so much star power that they don't need to worry about off games, as they can rely on LeBron to be LeBron and Kyrie to continue his outstanding play in the playoffs. The Cavaliers acquired Kyle Korver, Deron Williams, and now that J.R Smith is back and ready to play the Cavs have a lot of players to call on if someone is having an off game.
As the final minutes closed, it was the most J.R Smith-esque series of events. LeBron hits a three to put the Cavs up late in the game. Pacers ball; the Pacers inbound the ball, try to get the ball to Paul George. George slips, and the ball lands in the hands of none other than J.R Smith, who obviously trys a behind the back pass, turns the ball over, gives the Pacers another chance to tie the game, which ended up with Paul George hitting a brick landing in LeBron James' hands, letting him cap off the game with free throws.
The Cleveland Cavaliers are now headed to the second round where they will meet the winner of Toronto and Milwaukee. The series between those two are tied, where both teams will meet in Toronto to gain a 3-2 advantage in this series. Below is a video that shows the monumental ending to the Cleveland versus Indiana game.