At Monmouth, the amount of enrolled students is rising. The University is accepting more students, and more currently enrolled students, such as myself, aren't graduating on time. As we stay here longer, we still need to come to class – and to come to class, we need to park our cars on campus.
Rising numbers of student and staff populations make the already-difficult parking impossible. When the student body outnumbers the amount of available spots, obviously there isn't enough parking.
Naturally, we built a stadium instead of a parking garage and paid over a million for our basketball team to have a commercial during last year's Super Bowl.
I feel strongly about this situation because it has been a total nightmare for me, especially in the past year.
My drama began last fall semester. Full of frustration, I Tweeted at Monmouth:
"If you want know to know what wasting 50k feels, like come MU and try to find parking" [sic]
I received a great response from my fellow Monmouth students, who understand the struggle of this parking nightmare. In return, the University replied to my message, saying they are working on it. The Tweet had an irritated tone, and rumors spread that whoever was in charge of the Monmouth University Twitter account was reprimanded for the rude response.
Despite the response, I saw no changes from the University.
One day, I came to campus 45 minutes before my class. It was pouring, and the valet services had the day off. There was not a single spot on the entire campus.
I cannot emphasize this enough – it was packed. There was not one student spot available. It seemed that every student that could drive took that day to be on campus, and I needed to get to class.
Finally, I found one available spot – a faculty-designated spot.
By this time, class had started. I double-parked my car with a fellow classmate, who I found walking back from the athletic department, where she had found the literal last spot on campus. She ran inside, thirty minutes after class had started, and explained to my professor that I was still circling the campus to find a spot. The professor gave the okay, stating that this was a daily issue for almost all of her students.
Again, I took to Twitter. Without tagging the University directly, I asked how I was supposed to make it to class with the unannounced absence of the valet and zero available parking.
This time, Monmouth directly messaged me, asking for the lot number I was trying to park in. they also said that they are "working on" a system. I responded with the time that I first arrived on campus.
After an hour of searching, I had had enough. I was beyond over it. I parked in the faculty spot in front of Plangere, and in the pouring rain, wrote a very polite note explaining the circumstances to the Monmouth University Police Department (MUPD). I asked that they please refrain from giving me a ticket because of the lack of parking. I also sent a follow-up message to the Monmouth Twitter account, stating that this was my only choice.
They thanked for me for the information and sent me on my way.
When I walked out of class in the pouring rain this is what I found: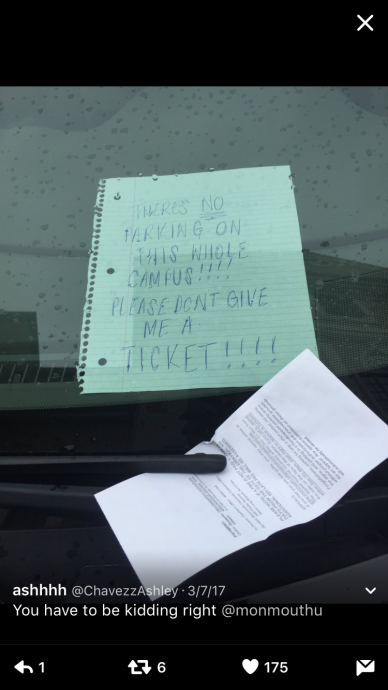 The ticket was soaking wet and bleeding ink. Things like this should not be happening to students who are paying an exorbitant amount to attend this school. I think that some staff members misunderstand that we, as students, are shelling out hundreds of thousands of dollars in cash and loans to come here for an education. We are paying salaries for Monmouth University employees – and all we ask for in return is a parking solution.