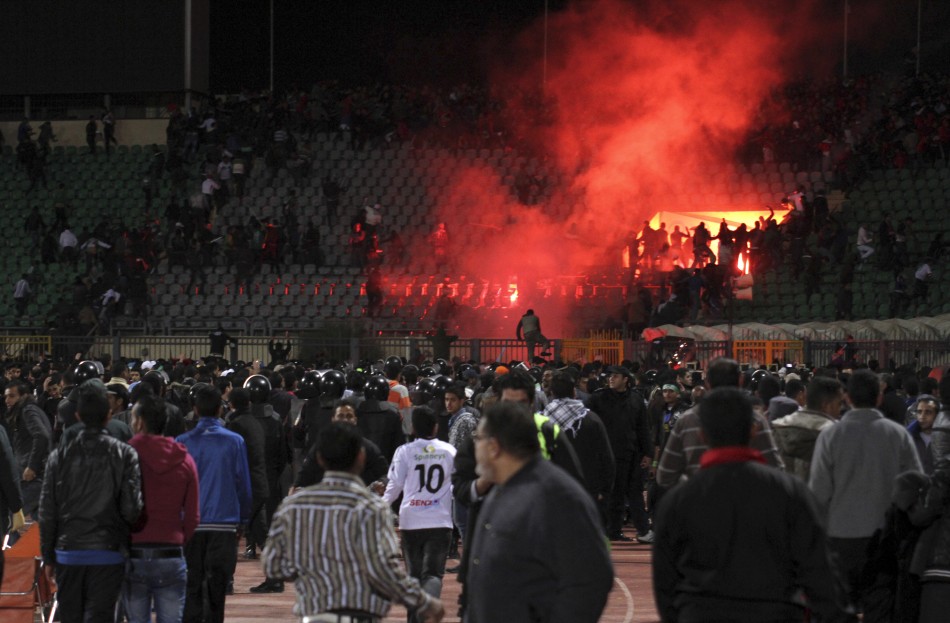 As this weekend approaches, Giants and Patriot fans begin to plan where and who they will watch the Superbowl with.  Sports have become a huge part of the American culture. Luckily, America has good security and organization to keep this upcoming weekend tame.
A frightening situation occurred in Egypt recently that revolved around a similar type of sporting event to the American Superbowl.  Two very popular Egyptian teams played this week, which resulted in 74 people dead at the end of the match in the seaside city of Port Said. On Wednesday following an upset victory by the home team over Egypt's top club, setting off clashes and a stampede as riot police largely failed to mediate.  The Egyptian league match was between Al-Masry, the home team in the Mediterranean city, and Al-Ahly, based in Cairo and one of Egypt's most popular teams.  The riot was the worst case of soccer violence in Egypt and the deadliest worldwide since 1996.
The fights broke out when fans of Al-Masry flooded the field following a rare 3-1 win against Al-Ahly. Al-Masry supporters used sticks and stones as weapons as they chased players and fans from the rival team. Witnesses were devastated to have to experience such a horrifying moment.
According to ABCNews.com, reporters related the fight to war.  People are blaming the military forces for not having the proper control over the stadium at the time. Many upset witnesses gathered outside Al-Ahly club in Cairo, chanting slogans against military rule, "We die like them, or we ensure their rights," the crowd chanted, along with slogans denouncing the military rulers.
Huffingtonpost.com reported the after math stating that the tension also spread to the nearby Suez province. About 500 protesters, including soccer fans and activists, gathered outside the main police headquarters to protest what they called police negligence.
It is mind boggling to think that a fun soccer game could get so out of control that it leads to death and injuries.  Are sports that important, that lives must end?
Al-Ahly goalkeeper Sharif Ikrami, who was injured asked himself the same question after the stampede.  Huffingtonpost.com stated, he told ONTV "There were people dying in front of us," he said. "It's over. We've all made a decision that we won't play soccer any more. How will we play soccer after 70 people died? We can't think about it."
It is heartbreaking and terrible to hear this news.  This weekend when you and your friends are out or relaxing watching the Superbowl just remember it is just a game and have fun!