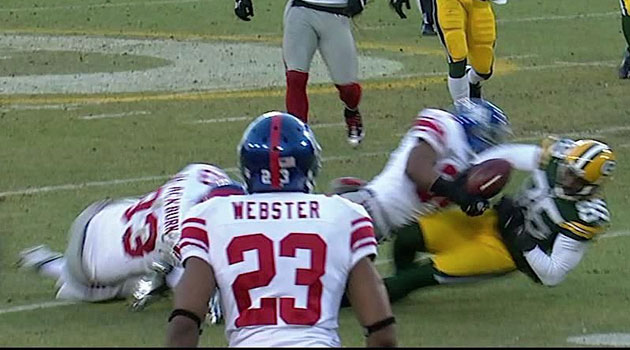 Sports, to many people, isn't just a game. It's a way of life. So, when someone with the power to twist the game one team's way does so, their decisions are sometimes scrutinized. And in some instances, rightly so. We watch sports to see the game be fairly won. Not for the officiating crew to determine the winner.
Over the past few weeks, fans from large media markets in New York, and smaller media markets in West Virginia cannot help but wonder what goes into the minds of some of these officials. No matter what the stage is, there seems to be bias for either the home team, or certain players. During the Giants divisional playoff game against Green Bay, there were several seemingly easy calls that the officiating crew managed to botch. First, Greg Jennings appeared to fumble the ball early in the first half. Announcer Joe Buck and commentator Troy Aikman both believed it was a clear fumble. Fox replay analyst Mike Pereira also believed it to be a fumble. The call on the field was then made official: no fumble. Replays clearly showed that the ball was coming loose before Jennings's knee was down. If both play by play announcers and a replay analyst who see the same shots the officiating crew does believed it to be a fumble, then how did the ruling on the field differ? Strange, but no one is perfect.
Later in the game, Giants quarterback Eli Manning was hit late once, and a second time by a player leading with his head. These two instances should have resulted in fifteen yard penalties. No flags were thrown. Coincidentally, when Packers quarterback Aaron Rodgers was legally hit by Giants defensive end Osi Umenyiora, a fifteen yard personal foul was called. Despite the seemingly biased refereeing, the Giants did prevail 37-20. However, the officiating was strongly criticized by many fans, and even made news on the NFL Network. It is one thing to miss a tough decision, but when technology allows us all to see the same images, there is no excuse for not making the proper call.
Many viewers of the January 28 men's basketball game between West Virginia and Syracuse tuned in for a hard fought affair between two excellent programs. With the Orangemen leading 63-61, WVU forward Truck Bryant's shot fell short with eleven seconds left, but teammate Deniz Kilicli put up his miss. Then, Syracuse big man Moussa Keita seemed to block Kilicli's shot. The mountaineer bench exploded, and with good reason. Replay clearly showed that Keita touched the ball after it hit the backboard, which should mean a goal tend, and a tie game. The ball went out of bounds, the officials did not review the play, and the mountaineers went on to fall short, 63-61. If the technology for replay is there, why not use it? Especially in a game of significant magnitude.
Whether it's the biggest game of football Sunday, or a battle in the Big East, officiating has not been pristine. No one is perfect, but when so many people can see the right call, and the men who are paid to make the proper call fail to, it can only make you wonder two things: there was an unfair bias shown, or someone needs to be fired.