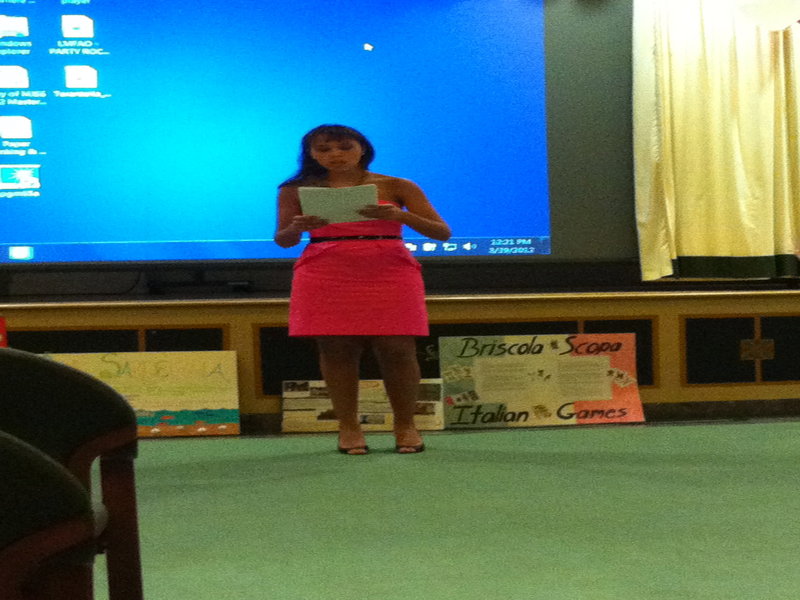 West Long Branch, NJ (The Verge)– La Festa Italiana 2012, Monmouth University's Italian festival, was held last Thursday March 29, 2012, from 11:30am to 1:00pm in the basement of Woodrow Wilson Hall.
The Italian Festival is an event held to help commemorate and enlighten the student body of Monmouth University to the Italian culture. It is held every spring by the Italian club in Wilson Auditorium.
The Italian festival brings together Italian food, music, art, and poetry, among other things associated with the Italian culture. The festival is meant to bring the Italian culture to those at Monmouth who would never otherwise experience it.
Breanna Fiorenza, 20, a junior at Monmouth, went with her Italian class to the festival to show support for the Italian club and learn more about the culture.
"My father's family is Italian but have lived in America for a long time. It's nice to see the culture brought to campus, and to know that my family still does things according to how they were down back home," Fiorenza said.
This year, the headlining guest speakers of the festival included Dr. Andrea Barbaria, a member of the Italian Consul in New Jersey, Dr. Irene Deorsola, a doctor of Political science from the University of Torino and School of European Studies as well as Cardiff University in the UK, who presented her findings about love in Italian literature and art, along with student performances, poetry readings, songs and dances.
These student performances included a poetry reading by Bryan Cucinotta, two songs sung by Maria Carvalho, Kandia Jumil and Kassandra Ledesma playing Concerto in D minor for two violins and Natasha Powel dancing to Party Rock Anthem (Italiano). However, the event focused on the most was the Tarantella Napoletana, danced to by Lorenzo Russomanno, Sara Thomas, Madison Pinto, Olivia Greco and Brandon Wasylyk.
Alyssa Guidice, 18, from Hicksville, New York, a member of the Italian Club on campus, had high hopes for this year's festival.
"I hope people come and support the Italian club; since we are a new club it would help recruit new members," Guidice said. "We really want to go to little Italy, so more members would mean more support and funding!"
Run every year by the Italian club, the Italian festival started about nine years ago, one year after the club was started. The professor responsible for both the club and the festival, Dr. Maria Simonelli, has worked tirelessly behind her students to get the club off of its feet and become what it is today.
"We want it to grow more. We want people to learn about the culture. The Italian culture has such magnificent literature and art… that is why the Italian festival has such a large discussion about music, culture and art. We want to show everyone that Italy is not just about spaghetti and meatballs! It is a broad and marvelous culture," said Professor Simonelli, an Italian and Latin professor from Naples, Italy with a Laurea di Dottore, or a Doctorate, in Philosophy from the University of Naples, Italy, and a degree focused on Italian Literature and culture and the socio-cultural evolution of the woman in the Neapolitan Hinterland during the Twentieth Century.
The president of the Italian club, Ottaviana De Ruvo, 20, Wood-Ridge, New Jersey, was very excited about the festival. "We want to bring the Italian culture to Monmouth and show everyone what it is really about," she said.
After two years of being president of the Italian club at Monmouth University and her years as the Italian Club president in her high school, Wood-Ridge High School, De Ruvo plans on using her governing skills to develop the ten-year-old club and nine-year-old festival and get more people involved.
"We basically just want to expand the club and involvement. Its cool because you don't need to be Italian to be in the club, we take all different people," De Ruvo said.
The entire club, especially Dr. Simonelli, echoes this appreciation and acceptance of all cultures. "We take all people, not just Italians!" Simonelli said.
With the help of her Italian classes and the club, Dr. Simonelli has worked vigorously and it showed. When asked about the day of the festival in general, Ottaviana De Ruvo just wanted to "thank Professor Simonelli for her support."
Free food, good music, beautiful art and amazing literature awaited all who attended La Festa Italiana 2012. "I hope [the festival] peaks people's interest and everyone eats and has a good time!" Guidice said.