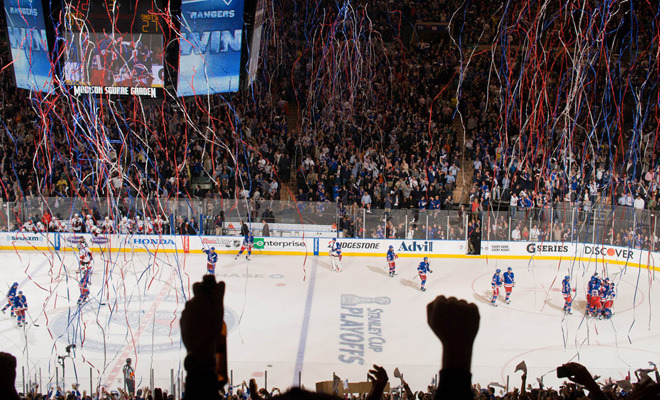 West Long Branch, N.J. (The Verge) – Madison Square Garden is the ultimate venue for a playoff game. When the Rangers take the ice, or the Knicks take the court, there aren't many other places you'd want to witness a playoff game. The atmosphere at the Garden is just different from any other place. There are no parallels to the energy that Garden has, or how the fans support their team. It's just different there. The Knicks and Rangers are both in the playoffs at the same time since the late 90's, and that is a treat for fans
Many of us remember Matteau's double overtime winner in game 7 vs. the hated Devils in the '94 conference finals. We have already been lucky enough to witness the Rangers's dramatic game 7 victory against Ottawa last week. Anyone that watched that game or was there, must have been able to feel the energy in the Garden. That place was raucous, and the blue shirts delivered. They are now into the second round, and looking to avenge last years first round defeat against Washington. With game 1 successfully in the books, and game two being played later tonight, expect another obnoxious amount of noise coming from the Garden faithful.
As dramatic as Stephane Matteau's goal was against the Devils, Larry Johnson's four point play against Indiana in '99 was equally as exciting. The Knicks have provided us with many playoff moments over the years, and they look to give us more this year. They are big underdogs against heavily favored Miami, but anyone who attends a Knick home game later this week will not seem to care. The Knicks and Heat are renewing their rivalry, and you can bet the Garden will be up in full force supporting their team. Anyone that has been to the Garden knows what kind of home court, or ice, advantage the home team has. We can only sit back, and watch as the Knicks and Rangers continue their playoff journeys. However, when there is a game going down at MSG, it's hard to sit.