(The Verge) –Diego Allessandro has big post graduation plans: stardom.
Emerging from the University's communication department Allessandro, 28, releases his first full length album this month, Roses and Broken Hearts.
An introspective record, full of artistic odes to life struggles, Allesandro comes across sounding like a modern day mash up of Johnny Cash and Jim Morrison.
It's not unusual to find such great talent in the halls of Monmouth University, but figure out what sets Allesandro apart from the rest, in his interview with The Verge: 
Q: How did you get into recording music?
A: I started playing guitar when I was 7 and branched out to other instruments in my teens. I began writing songs around 15, in fact some of this record has tracks that were written when I was 17. The title track and the opening track were written in late 2001 and early 2002, though Roses and Broken Hearts did go through some lyric changes around 2007. I just began recording songs I'd written to see if I could create something worth releasing. It's been a long time for various reasons, financial and medical, but I got the record out this summer and just in time for election season.
Q: What was the creative process for this album like?
A: I've always been incredibly observant of what is going on around me and had a mind for social concerns. My mother sat me down and made me watch the fall of the Berlin Wall on the news at age 4 because she said it was important. I didn't really know why at the time but I figured that out later on in life. On the flip side of that, being born in Colombia I've been on the receiving end of racism against Latino's and made to feel not American enough by small minded individuals growing up in my hometown of Old Bridge, NJ. That fueled my creative side. The contrast between my teachers and family telling me I could be anything I wanted in America (I was adopted by an Italian family from NYC, moved to NJ at age 3) and the kids telling me to go back to my own country or that I wasn't really an American because I wasn't born here. So I began to search for those answers, the songwriters I love the most searched for the answers to the toughest questions they could ask themselves. What I asked myself on this record is, "Where is the American dream? Where is the American reality?  What's the distance between those two? I also asked myself how that effects my generation.  I was 17 on Sept 11, 2001 and fighting age when we went to Iraq which I never agreed with. I heard voices in my neighborhood, my school, which was at the time Brookdale Community College, and in the news. This record traces the America that I payed attention to the most during the years I went from a teen to a man. The songs were written over a long period of time, late 2001 through October 2008. It was around then I started recording those songs for the purpose of putting out the record. This is a singer\songwriter record. The melodies are uncomplicated and the compelling elements come from the lyric and the story; not the music underneath. But with the election coming up, I had the record done and decided to put this one out as a download only. That's my job, to ask myself the toughest questions about reality and dreams, the distance between them and find those answers, that's my service to my audience and what I bring with me when I hit the stage. It's a conversation, one that will not end until after I'm gone. Take The Black Rose it's a song about a widower who looks at his life and sees the one thing wrong is the absence of this wife, which he describes as a black rose in a colorful, beautiful garden. I am not a widower but I know what it's like to lose someone, I know what it's like to feel lost. Part of the creative process has to be you identifying with the person you're writing about, and what they're feeling otherwise you're just rubbing two sticks together in search of a fire. It'll lay flat on the page, the posers are easy to find when truly listen.
Q: What's your favorite track?
 
A: I think every track on this record is a great track, but that's the thing about music. One day you have one favorite song, the next day you identify with another. That happens whether or not it's your song or someone elses. So do I have a favorite track? Not really and yes. I'm proud of each one of these songs and I know people can find something in each one of them. People who have heard the record tend to enjoy The Black Rose, War and Roses, Shades of Gray and Dead End Street the most.
Q:Where do you see your future going in the music industry?
A: I've produced for other people, played on other peoples records, stood in for musicians when they missed a gig, so I feel like I have a legitimate shot at becoming a producer and songwriter, as well as recording artist and session pro. I've been a pro since 2002 and I see the industry picking back up locally, which is great to have people creating rock music again. I wrote over 50 songs and so many were left off the record and some have been put towards the next two that I'm working on for 2013 but the rest, which are tracks I feel just didn't lend themselves to the records I'm making, are available for others to cover. I tend to work very conceptually, I like the idea of a concept record. The songs are good enough that if someone only goes to ITunes and downloads a couple, they'll like them but for people like be who like full records and will listen to full length LPs, there is a great record there for them as well.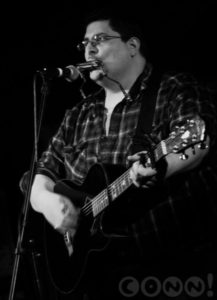 Download Diego Allessandro album on iTunes today! 
Must Hear: Ain't Got No Home
You can like Diego Allessandro on his official Facebook page or follow him on Twitter!