(The Verge) – After a close Stanley Cup series last year against the Los Angelels Kings, the New Jersey Devils began a shortened season strong. In the first month, the Devils went 10-5-4, and are currently behind the Penguins by two points.
The Devils have been successful at home this year. Their record at home is 6-2-2. According to ESPN, these home wins have been helping them in attendance, as the Devils are currently averaging 17,342 fans per game. Compared to last year, they are averaging 1,915 more fans per game, and are ahead of the Rangers.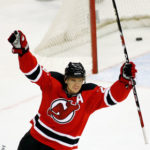 There have been players who have stepped up their game this year. Patrik Elias  has been tearing it up this year as he has been every year since 1996. Elias currently leads the team with 5 goals, 17 assists, 22 points in total. He is 4th in the league for assists and 9th in the league for total points. David Clarkson is also doing well this season, leading the team with 10 goals, and 72 shots. He also has 5 power play goals, 17 points, and 7 assists.Ilya Kovalchuk has also had a successful season so far. He has scored 7 goals so far this season, along with 10 assists and 68 shots.
You can't have the New Jersey Devils without their iconic goalie, Martin Brodeur. This season, he has an 8-2 record, along with many overtime appearances. Most games with Brodeur in the net have been close ones. Most of the time the Devils have not won with Brodeur, they are not penalized with a loss because the game goes into a shootout. 

Although these players have been successful, some have not had such a great season. Backup goalie Johan Hedberg is one of them. After starting five games, he is 2-3 and has been the cause of the blowout losses this season.
Bryce Salvador, the new Captain for the Devils, has been struggling this season. He currently has no goals and only one assist, as well as only 11 shots on goal.
While the Devils have a good record and are close to being in first place, there are some things that the Devils need to do in order to be successful. Instead of Elias, Kovy, and Clarkson leading the team, other players need to begin stepping up their defense.
The Atlantic Division is one of the toughest divisions in the league, which means that the Devils must show some charisma and aggression in order to be considered for the Stanley Cup Playoffs.