The National Hockey League (NHL) and National Hockey League Players' Association (NHLPA) have agreed on a realignment plan on Thursday that will take effect next season.Last year's relocation of the Atlanta Thrashers to Winnipeg left the franchise with a rigorous travel schedule, as their nearest division opponent is in Washington, D.C.
The new plan features four divisions, as opposed to the current six. It also features a modified playoff system.
The Stanley Cup playoffs will still consist of eight teams from each conference, for a total of 16. The top three teams in each division will secure playoff berths. The two remaining berths in each conference will go to the highest-finishing team, regardless of which division they are in. The playoff series will be high seed against low seed – the same way it is now. Playoffs will be within the division, and the two division champions from each conference will face off in order to determine who advances to the Stanley Cup Final.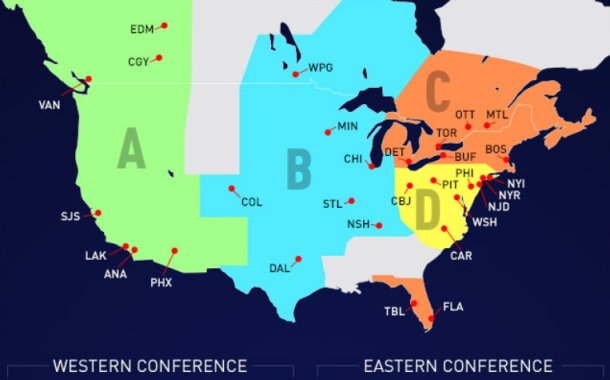 The Western Conference will consist of divisions A and B.
Division A: Anaheim Ducks, Calgary Flames, Edmonton Oilers, Los Angeles Kings, Phoenix Coyotes, San Jose Sharks, Vancouver Canucks
Division B: Chicago Blackhawks, Colorado Avalanche, Dallas Stars, Minnesota Wild, Nashville Predators, St. Louis Blues, Winnipeg Jets
The Eastern Conference will consist of divisions C and D.
Division C: Boston Bruins, Buffalo Sabres, Detroit Red Wings, Florida Panthers, Montreal Canadiens, Ottawa Senators, Tampa Bay Lightning, Toronto Maple Leafs
Division D: Carolina Hurricanes, Columbus Blue Jackets, New Jersey Devils, New York Islanders, New York Rangers, Philadelphia Flyers, Pittsburgh Penguins, Washington Capitals
It will be nice for the Winnipeg Jets to cut back on their traveling, and to play more games against teams in the same time zone. However, many will be disappointed to learn that the Chicago Blackhawks and Detroit Red Wings will only meet twice each year under this new structure. The two teams have developed quite the rivalry as two of the NHL's original six franchises.
The NHL as we know it is about to change. Only time will tell if this change will be for the better.