(The Verge) – I love talking about indie artists you haven't heard of, and finding new music I haven't heard is half the fun for me. This week, though, Free Music Friday going a little less new and a little more mainstream (but don't worry, it's still free music).
Maybe you've heard of folk/rock/country band The Civil Wars. Their self-titled sophomore album was released on Tuesday and shot straight to number one on the iTunes charts. The duo won a Grammy with Taylor Swift for their contribution to "The Hunger Games" soundtrack. They're also making headlines because they're releasing an album without speaking to each other. Joy Williams and John Paul White abruptly cancelled their tour last year citing irreconcilable differences (no, they're not actually a couple; both are married with separate families), but still fulfilled their contract and made another album.
"Live from Eddie's Attic" was the first release from The Civil Wars on the internet, listed for free as a means of promotion, and it became a weird listening experience knowing that the musicians are barely friends. The live EP is filled with banter and joking between the two from well before things started to go downhill.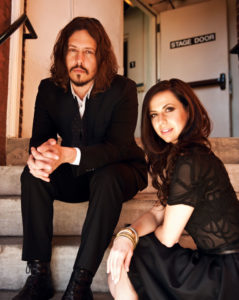 However, more importantly, the 10 song EP is absolutely phenomenal. "If you're not sad now, you're gonna be," (a White introduction to their set with his southern drawl). It's a fair introduction. The Civil Wars aren't really upbeat. They capture darker emotions really well, and they deal with inner conflict a lot (hence the band name).
They start off with "If I Didn't Know Better," which somehow never managed to be recorded in a studio, unlike the majority of this EP. Williams sings, "Why do I keep drinking/Wasting my time on you/If I didn't know better/Well, dammit, I do." Her voice is really smooth and feminine, and it honestly makes this a pretty sexy song.
Her voice is complimented really well by White's southern drawl. At the end of the day, Williams' voice could work in almost any genre. He has this southern rock voice and he sounds grittier than Williams. It's sort of the perfect combination though. It's like Williams is leather and White is lace. Nothing separately says they would go well together, but once they are together, the contrast is actually complimentary.
White really shines on "Dance Me to the End of Love." Oddly, it's not actually an original song. It's a Leonard Cohen cover. Yet it's one of the few songs where White and Williams sound like they're doing a duet. White ends up being Williams back-up singer a little too often.
Both singers do the writing, though (and hey, they're doing something collaboratively right there). "20 Years" is one of the songs that really demonstrates their country element as it utilizes story telling. It doesn't even use a chorus or any sort of repetition. The song starts with both singers harmonizing together: "There's a note underneath your front door/That I wrote twenty years ago/Yellow paper and a faded picture/And a secret in an envelope." It becomes a mini story about someone asking for redemption and forgiveness.
Their songwriting is a lot of why they get lumped into the country genre. Really, they're very folk rock. Their music is relatively simple, instrumentally. On this EP, they're only accompanied by guitar and piano, and it's only the occasional southern drawl that makes me think country.
Genre isn't that important, though. What's important about music (and all art) is if it made the listener feel anything. Half way through the album, White follows up on his introductory comment and asks, "Are you sad yet?" Oh yes. The Civil Wars rip your heart out in a really fantastic way.
Check out Live at Eddie's Attic for free on NoiseTrade and keep up with The Civil Wars on Facebook.