(The Verge) – I like my pop punk bands to have a lot of talent, sarcasm and the ability to cover 80s pop songs really well. USA!USA!USA! fulfilled all of those requirements, and that's why their free album "What's Your Name?" landed on this week's Free Music Friday column.
The album title probably references the song titles, all of which are girls' names. Granted, they're definitely taking part in the cliché of writing a song for a girl and naming it after her. They acknowledge that and definitely mock it, but that doesn't mean the music's bad…
The songs all follow the same theme. USA!USA!USA! really wants a girl to love them back. They really want Michelle to know, "Michelle/Baby, you know you should be mine." For Sarah, "Sarah, Sarah/Baby gonna leave it up to you, cause I already know/That if I'm with you and you're with me/There's nothing left to show." So by this point, I'm slightly concerned about how much chasing these boys do for girls, but their cool guitar licks and the lead singer's great voice keep me interested.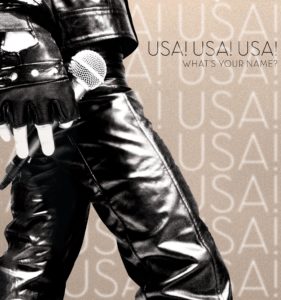 Then things take a turn with "Karina," at least musically. It's sort of a power ballad, and it's like the band might be accepting that a girl doesn't want them. It sounds just a little sad. "The harder I try/The further you run away/Yeah without you girl/These days just turn into nights," they sing. Yes, you do come on strong, boys. The album also contains an acoustic track which really displays the voices of the singers in the band. It becomes a heartbreaking song about desperately wanting someone who doesn't want you back.
USA!USA!USA! keeps the classic attitude of a punk pop band. In "Marissa" they sing, "Just as long as you're with me/I say screw society/I know that this is wrong/But all I want is your lips on mine." They turn their noses up at mainstream society and rock out with a lot of catchy guitar licks. The band makes it relatively clear in the video for "Marissa" that they aren't quite serious. The video finds the band in front of Marissa's house as puppets with human heads to play her a song. Complete with a cheesy introduction to playing the song and a dramatic mid song rain storm, it's clear that the band is also gently mocking what they do…They know how ridiculous they sound in their lyrics, and they're definitely satirizing a certain type of songwriter. But then, if a band names themselves after the USA chant, you probably shouldn't expect them to take themselves too seriously.
At the end of the album comes a fun cover. I really enjoy when a pop punk garage band covers an 80s pop song. It's really one of my favorite things, and that's the first thing that attracted me to USA!USA!USA!. Their rendition of Cindi Lauper's "Girls Just Wanna Have Fun" is filled with electric guitar and heavy drums. It's a nice contrast to the rest of the album.
Check out "What's Your Name?" from USA!USA!USA! for free on bandcamp and keep up with them on Facebook.