(The Verge) – We are told the horrors of freshmen fifteen. We are told the course work can be demanding. We are required to read a book among our class of 2017 for summer reading. Malcolm Gladwell's Outliers becomes a reality for Monmouth freshman during the first week of college. Are we the true Outliers? Will upperclassmen be able to specifically differentiate us among the other students? Will the professors even give us the baby treatment? To answer these questions, I have discovered after my first week at Monmouth that all these assertions are not true. Yes, we are the Outliers, but everyone at Monmouth started as an Outlier and the students that passionately love the school will share their experiences.
I have been welcomed with open arms by countless upperclassmen. Their advice and their guidance have made the transition so much smoother. I can feel their Monmouth spirit every time they talk to me. It is one of the reasons I chose Monmouth University. The school spirit was always thriving. My high school lacked school spirit and even the other colleges I visited were missing something that Monmouth had.
Just this past weekend, I was invited to a beach trip with the wonderful ladies of Alpha Sigma Tau. I had been talking to some of the ladies over the summer. In particular, I turned to Daniella Rivera with countless questions about Monmouth life and the first year. I definitely owe her for helping to ease my transition and for even giving me a ride to the beach trip.
Even Alpha Sigma Tau's recruitment officer, Lena Suarez, remembered me from Mondays at Monmouth. I remember sitting in her political science class, extremely nervous and anxious and she warmly invited me to work with her group. And it didn't surprise me when I saw her again at the beach this past weekend that she hugged me with open arms. She made me extremely excited for more of their events.
I also attended the Alex Goot concert, Monmouth Palooza and The Heat movie screening.These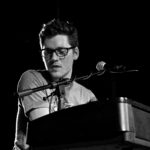 events were successfully run under Lucy Carmela. After meeting her at Open House last October, we stayed in contact via Facebook and I would share my excitement for Monmouth with her as well. I saw her again at Monmouth Palooza and she hugged me with open arms too. She was sad it was her senior year. Lucy told me to take advantage of all the opportunities at Monmouth and to never stop getting involved. I hope that by the time my senior year at Monmouth rolls around, I will be able to reflect back like Lucy and know I am leaving Monmouth a better school than it was before. Yet for now, I will try to make my freshman year as memorable as possible.