WEST LONG BRANCH, NJ – Monmouth University's very own student theatre group, Boom Roasted Productions, put on its very first student run, full length musical on May 2nd at 8:00 p.m. in Woods Theatre.
The show was set to only have two performances but, since both sold out quickly after tickets were


released, it was decided that a third performances would be added following the May 3rd matinee at 8:00 p.m. The show was coordinated entirely by the students Boom Roasted Productions and their director, Sheri Anderson.  From the production crew of stage managers, light designer and choreographers, to the band and musical director, this production already had a lot of pressure to succeed. As the musical quickly began the audience knew that this was going to be a little different then what their use to.
This cast was specifically chosen to best fit the personalities of each unique character.  The main characters include: senior Mark Wiener as Mark Cohen, an independent Jewish-American filmmaker and Roger's roommate; senior Nickolas Haberstroh  as Roger Davis, a songwriter-musician who is HIV positive and Mimi's boyfriend;  senior Zoe Bulitt as Mimi Marquez, an erotic dancer who is also HIV positive and is Roger's girlfriend; Nicholas Zaccario as Tom Collins, a homosexual, part-time philosophy professor at New York University and anarchist with AIDS and boyfriend of Angel; Evan Kudish as Angel Schunard, a transgender percussionist also battling AIDS, who is Collins' partner; Tia Romeo as Maureen Johnson, a bisexual performance artist and Joanne's girlfriend and the ex girlfriend of Mark; Mahalia Jackson (on Saturday evening and Sunday matinee) as Joanne Jefferson, a lesbian lawyer, who is Maureen's girlfriend; Amanda McTigue, played Joanne Jefferson on Sunday evening as a fill in for Jackson.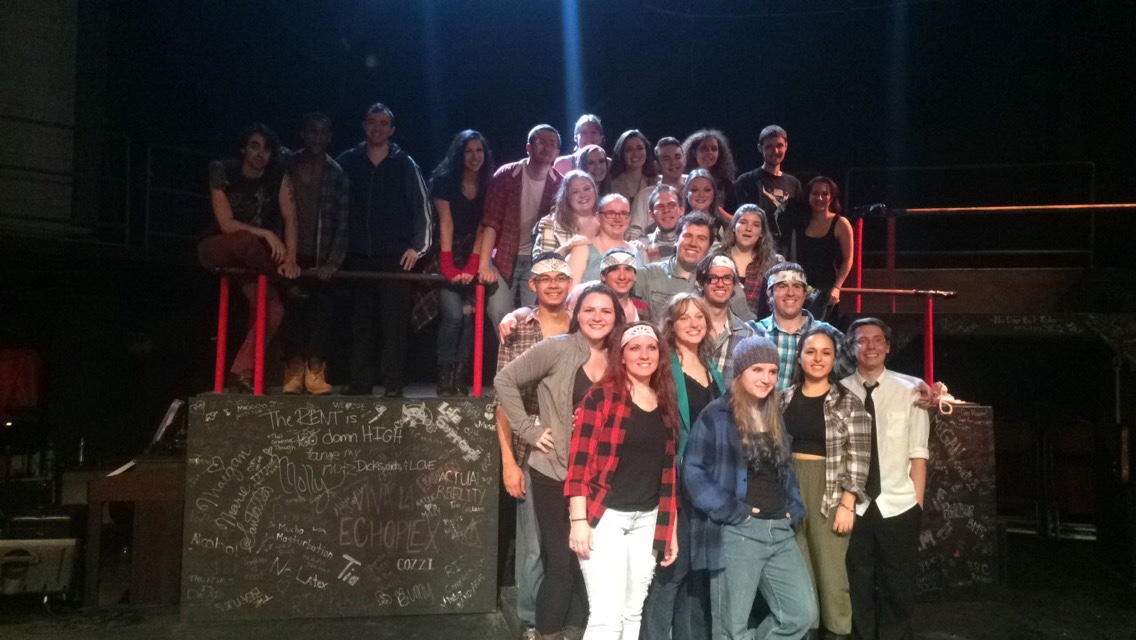 The show included Rent classics such as "Tune Up #1", "Seasons of Love" and "Rent."  During the performance,  you could feel the passion and fire coming from these young actors. They even went into the audience to perform, singing in the isles and encouraging the audience to interact with the performance. The vocal abilities of each of the actors left the audience in awe; after the show, many audience members could not believe that a majority of the main characters were only freshman. Freshman Amanda McTigue, would filled in at the last moment as Joanne, was particularly impressive.  Altogether the cast performed forty-two numbers where many of them were in almost every one; an impressive feat for college-level actors.
The stage was set up on various platforms surrounded by red safety bars. The sides, front and stairs of these platforms were decorated with graffiti. Before the start of each production, the cast, crew and the director urged audience members to come down on stage and sign the front of the platforms with quotes, signatures, integrating the audience into the performance. Stage left was set up to look like Mark and Roger's apartment complete with an old couch, table, house phone, roger's old band posters and an illegal wood burning stove. All these elements combined with the platform stage really painted a nice scene that made it easy for the cast to move swiftly.
In the dressing room, before the final showing of the musical at 7:00 p.m. on May 3rd, Monmouth University's President Paul Brown joined the cast and crew to wish them luck on their last performance. Brown already saw the production earlier that day and appeared to have been entirely taken by the show. "My life is great but you guys, my amazing students, make it even better," said Brown. "I love knowing that there's student productions like this going on."
As President Brown exited the dressing room, sophomore Nicholas Zaccario, gathered his fellow cast and crew to tribute tonight's performance. Zaccario usually giving motivational speeches made this one extra special explaining how this all wouldn't have been possible without everyone but especially without the hard work of the seniors. "This is for Boom Roasted and we did it," stated Zaccario. "No matter where they go in life they will always have family here, good luck; now everybody hands in. One. Two. Three. This one's for our seniors!"
The singing, dancing and costumes all made the show come together, but there was one element that really brought the production to life, and that was the way everyone worked together. There were some really wonderful moments that had the audience speechless because of the power that the cast had when they all came together. There were so many moments that worked perfectly because the cast truly put their heart and soul into this production.
Boom Roasted Productions really went for it in their first production, attempting to execute one of Broadway's classics. In the end, their performance was spectacular, their teamwork impressive, and the overall effect of the production was a great success. Bravo!