(The Verge)- "Chemistry is the study of…transformation."
Walter White cooked more methamphetamine in a year than most other producers would in their entire lifetime.  He did it at a higher purity, thanks to his expertise in chemistry.  He was the most prolific methamphetamine cook in the entire world, and had millions of dollars to show for it.  All this aside, his drugs were not his greatest concoction- he was.
The ruthless Machiavellian drug lord that we had come to fear and love was a product of his own environment, an environment that he himself produced.
I had only recently gotten into Breaking Bad, which stars Bryan Cranston as the iconic Walter White.  Friends of mine worshipped the televised ground that he cooked on, and for good reason.  Last Sunday night  we said goodbye to Breaking Bad, with the AMC series concluding after 5 critically acclaimed seasons.  I managed to cram (essentially) the entire series into two weeks, and after the first two episodes, I felt like one of Walter White's customers: I was addicted.  I couldn't get enough of him.
To watch him grow from the disillusioned high school chemistry teacher to the most respected producer of the world's most dangerous drug was a journey in and of itself.  The subtlety of minor details that encapsulate the process of his transformation was the perfect example of human chemistry.  His transformation was greater than anything he and Jesse Pinkman ever cooked up.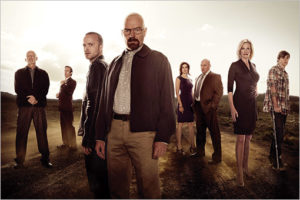 His product was 99.1% authentic, only outmatched by the purity of his nefarious personality.  Walter was the closest thing to complete evil television will likely ever see.  His excuses of doing what he did "for his family" were completely untrue.  He realizes this in the final episode (spoiler alert), when he's talking to his ex-wife.  He admits that he did everything because he actually liked it.  Here is the final dynamic moment in Walter's life.
At every endeavor, he was disillusioned.  He was never able to actually appreciate anything.  I'd like to think that what he did was a desperate attempt to make sure his family was taken care of, but it really wasn't.  Walter spent the last part of his life attempting to remedy the shortcomings that he had experienced at every turn of his life.  He resented the fact that he was under-appreciated and of course, underpaid.
Walter White may go down in history as one of the most ungrateful and unappreciative people ever to star on a renowned television program.  At every point in his life, he was blinded, whether it be by ambition, greed, selfishness, or whatever…
He gets a steady job teaching something he loves?  Doesn't make enough money.
He gets diagnosed with cancer, and his son sets up a website in order to help raise money for his treatment?  He resents the attention.
He has a wife who raises his children, one of which has cerebral palsy and requires special attention?  He constantly lies to her.
Yes, I am aware he was diagnosed with a terminal cancer and was only given months to live.  Instead of spending that time with his family, he chose to cook meth.
That's a bit…extreme.  He had to know at some point that things would come to the surface.  He couldn't have been so daft as to think that he would be able to make millions of dollars producing the world's most potent methamphetamine and he would just be able to die and leave all that money to his family without any repercussions.  It was clear that he would not be able to hide the fact that he was exactly what he became: a monster.  As someone who has a father whom (in my book) deserves infinite respect and outright admiration, I tend to believe I'm spared from the thought of being thrust into a situation like Walt Jr.
I would resent him.  I would resent the desperation.  I would despise the man who led me to believe that he was infallible, only to find out he was everything he wasn't.
Walter White had the opportunity to have his life end with the love, respect, and reverence of his family.  Instead, he chose to pollute his reputation and ravage the lives of those he loved most.  He lied to them, committed countless felonies, and was responsible for the destruction of the family.  Walter White was truly a terrible human being.  If given the chance, I hope that Walter would realize that his family would value their adoration and love for him more than any amount of money in the world.  Walter White was incapable of realizing what the idea of love and family truly meant.  In Batman-like fashion, Walter lived his life long enough to see himself become a villain; a greedy, heedless villain.
I think he would've been better off dying like the hero that his son once envisioned him to be; food for thought for all AMC fans out there.