WEST LONG BRANCH, N.J. – Delivery Man, directed by Ken Scott, follows a dysfunctional meat market deliveryman as he tries to track down his 533 biological children. David, played by Vince Vaughn (The Internship) is all over the place, literally, and he can't seem to do anything right. David's family can't even depend on him to do his job at their family owned meat market, but they can't fire him for obvious reasons.
Although David does have a job at the meat market, he grows marijuana on his free time despite his romantic relationship with a police officer, Emma, played by Cobie Smulders (TV Series: How I Met Your Mother). David's illicit drug possession is the least of his worries when he learns that Emma is pregnant. Emma has no faith in David as a boyfriend or a father so he attempts to clean up his act only to find out his past sperm donations would lead to far worse issues…
Actually, they resulted in 533 children. David learns from his makeshift lawyer best friend, Brett, played by Chris Pratt (Zero Dark Thirty), that 142 of his biological children actually want to meet him.  Brett reluctantly hands over the files of the children to David who cannot resist taking a peek. At this point he is chasing down all 142 of his biological children and hiding it from his pregnant girlfriend, friends and family.
A lawsuit erupts between the sperm donation clinic and "Starbuck" which is David's alias, because the children feel like they have the right to know whom their father is. The story makes the news and leaves everyone wondering who Starkbuck is. Even though David is extremely irresponsible, he is sweet and he means well. It's hard to know who to feel worse for, the 142 fatherless children who want to meet their father or the unreliable delivery man with a baby on the way.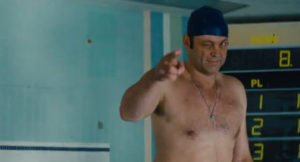 Vince Vaughn tends to portray a similar character in every movie he is cast in. His acting was very believable but also quite 'recycled.' With that being said, he did a good job with this particular story line and he delved more and more into the role as the movie went on.
Chris Pratt portrayed a funny unsuccessful lawyer and family man. He was comical and portrayed his character well, too. His performance was identifiable and even though most of the time he was joking around, his more serious moments towards the end really made his acting stand out. Also, his disconnect from his earlier career choice made for an interesting twist in the plot. Although his character is not a good lawyer, he is a good friend.
Cobie Smulders plays the typical girlfriend with an irresponsible boyfriend who can't get it together, and she does so fairly well. Her acting was average and there was nothing too special about her character but her presence is enjoyable. She never breaks character and sticks to her guns when she needs to.
Although not one of the main characters, Andrzej Blumenfeld (The Pianist) plays the character of David's father, an old school Italian man who does not mess around. He is sweet, yet stern and his commendable acting has nothing to do with the words he says, but instead, the lack thereof. He is a man of few words but when he does speak, a lesson is surely to be had.
The set decoration of the different locations in the film really flowed nicely together. From the meat market to the coffee shops to the apartments, the city 'feel' was definitely 'real.'
Overall, the film was very creative and well written; a love story with a giant twist. Ken Scott, who directed the film, creatively added each element to the story to keep the viewer interested and curious as to where the story line was going.  The music, by Jon Brion, was well placed and not too overpowering or distracting. The story and the music flowed nicely together as a whole.


The romantic comedy runs at 105 minutes and there is rarely a dull moment. The film is rated PG-13 and is appropriate to see with children over 13. Delivery Man wouldn't necessarily be my first pick movie for a family outing, but it is comical enough with some sweet and sour twists to keep anyone entertained.  Even though some could call the movie and more specifically the ending, cliché, it is still an enjoyable feel good movie.