(The Verge) – After a lockout that lasted nearly four months, the 2013 National Hockey League Season is in full swing. Hockey fans have returned without hesitation to fill arenas across the United States and Canada. The season has been underway for about two weeks now, and it has certainly been worth the wait.
Monmouth University's location between the New York and Philadelphia metropolitan areas makes for much diversity in terms of sports fans. In this case, there is no shortage of support for the New Jersey Devils, New York Rangers, or Philadelphia Flyers. While students attempt to balance their passion for sports with rigorous schoolwork, news from around the entire NHL may go unnoticed. This is the solution to that problem.
It is difficult to use the current standings as an indicator of how clubs will perform over the course of the season, as some teams have only played six games. As the season progresses, the gaps between teams in the standings will grow, and the playoff pictures of both the Eastern Conference and Western Conference will become clearer.
It may not be easy to predict what the standings will look like in three months' time, but some players have started the season with obviously incredible play.
Eastern Conference
Forward of the month: Thomas Vanek, Buffalo Sabres
Vanek currently leads the NHL in scoring. Although a talented player, his offensive start comes as a surprise. With youngster Cody Hodgson as his center, Vanek has his work cut out for him. If he is to maintain this kind of offensive production, he is going to have to do most of the work. Thus far, he deserves a lot of credit for putting up these numbers without any elite talent around him.
Defenseman of the month: Christian Ehrhoff, Buffalo Sabres
The Sabres had high hopes when they signed Ehrhoff to a 10-year, $40-million contract in 2011. He is certainly justifying Buffalo's commitment with his recent play. He has shut opponents down, as well as contributed offensively. Buffalo's good start to the season is due in large part to Ehrhoff playing some big minutes against tough competition.
Rookie of the month: Cory Conacher, Tampa Bay Lightning
Cory Conacher is a player that will make many NHL organizations kick themselves, as he was never drafted. The Tampa Bay Lightning loved what they saw from Conacher at training camp in 2011, and signed him to a contract in March 2012. He has produced well in his first two weeks in the NHL, scoring more than a point-per-game.
Goaltender of the month: Craig Anderson, Ottawa Senators
Anderson is not regarded as a star goaltender by many, but he has certainly played at that level so far this season. He has provided stability for the Senators, as they have secured five wins with the Illinois native in net. Anderson has the most wins and the highest save percentage in the NHL.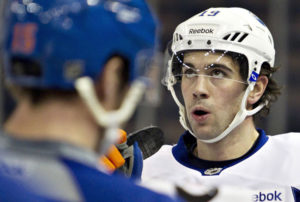 Western Conference
Forward of the month: Patrick Marleau, San Jose Sharks
Although Patrick Marleau plays with one of the NHL's best playmaking centers in Joe Thornton, his goalscoring run cannot be ignored. Marleau has scored nine goals in seven games. It will be nearly impossible to keep up that kind of pace throughout the entire season, but that does not make the recent performance of the NHL's leading goalscorer any less remarkable.
Defenseman of the month: Kevin Shattenkirk, St. Louis Blues
When the St. Louis Blues traded defenseman Erik Johnson to the Colorado Avalanche in 2011, they needed to replace the vital role he played at the back end. One of the players they got in return was Kevin Shattenkirk. Last season, he made the transition from a promising young defenseman to a significant contributor. He has begun this season playing on the Blues' top defensive pairing, regularly playing more than 20 minutes per game. He is a key cog in the Blues' elite powerplay.
Rookie of the month: Vladimir Tarasenko, St. Louis Blues
While many will focus on the Edmonton Oilers and their rookies, Vladimir Tarasenko gets overlooked. He leads all NHL rookies in scoring. Prior to this season, he was touted as a very talented playmaker, but he has demonstrated an ability to score goals, as well. Fourteen teams passed on Tarasenko at the 2010 NHL Draft, and many of them will likely regret it at the end of this season.
Goaltender of the month: Corey Crawford, Chicago Blackhawks


The Chicago Blackhawks have one of the deepest rosters in the league. Along with that, they have a steady option in net in the form of Corey Crawford. He has been a tremendous factor in the Blackhawks not losing any games in regulation, with five wins. After consecutive 30-win seasons, Crawford will look to continue his success with the Blackhawks.
One of the most exciting elements of a shortened NHL season is the frequency of change. The standings and statistical leaders – along with a multitude of other things – are constantly changing. Each and every game holds significance. In a 48-game schedule, each win is treasured, and each loss can be very costly. Despite the difficulty of making predictions this early, there is one certainty: hockey is back, and it is here to stay.