(The Verge) – This past Tuesday, January 29th, Monmouth welcomed the next Presidential Candidate to the Magill Commons club rooms for another meet-and-greet with the campus community. Dr. Donald H. Sebastian was the guest of honor and is currently the Senior Vice President for Research and Development at the New Jersey Institute of Technology (NJIT).
In his extensive Curriculum Vitae, it notes his many achievements in education and research. "He is responsible for leading the academic research enterprise, developing partnerships with industry and managing governmental affairs, intellectual property, business incubation, commercialization, and contract projects across the technology spectrum," it states.
The full Curriculum Vitae can be seen on Monmouth's website, here.
Like the first meeting with Dr. Cevallos,  students met at 5pm to greet the new candidate and ask him questions about himself and his role as a potential president of Monmouth University. After greeting the students, Sebastian welcomed them to introduce themselves and explain what they study and what sort of groups and organizations they are involved with. There were representatives present from across the Monmouth community, from members of the Student Government Association and the Honors School, to Pep Band and Student Activities Board.
Rather than speak standing up or in front of a podium, Sebastian sat in front of the group of students and awaited their questions. This seemed like a friendly and relaxed gesture, or perhaps he was just tired after a long day of meeting with Monmouth's faculty and professional staff.
To approach this from a Q&A standpoint, this is a gist of what took place…
The first question a student posed to Sebastian was once again, regarding the visibility of a university President on campus, and whether he thought it was important or not. Sebastian said that administrators, such as a President of a large university, have many responsibilities, for it is like running a business. Due to this, they often do not have the time to be seen by students, because they are taking care of other important issues. Sebastian said it is ideal and enjoyable to interact with students, but there are other administrative figures, such as the Provost, who are also in place to spend visible time on campus.
Sebastian said that he is not sure yet what goes on at Monmouth just yet, but he understands that athletics and cultural events are important at the university. Although a President's job is a busy one, "You do as much as you can in the time you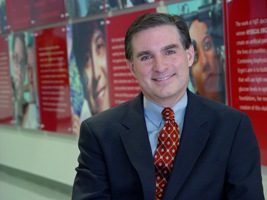 have available," he said.
Another question a student asked was how he felt about having Greek housing on campus in the future. Sebastian explained how NJIT deliberately brought Greek housing to campus. At NJIT, fraternities could live on campus, but there was not much other housing besides that. In order to create an environment separate from the neighboring academic community, a Greek village was created, to create a distinction from the neighboring buildings. Sebastian definitely supports Greek housing, if Monmouth can find a way to provide it, given the space and resources available to the university.
One student asked Sebastian what he would do to improve retention rates at Monmouth. Not knowing the exact retention or graduation rates however, Sebastian talked about what possibly causes students to drop out of college.
Sebastian said it has a lot to do with emotional maturity, and not academics alone. For example, many students are not prepared to live on their own. Sometimes you may be the only person attending your university from your hometown or high school, said Sebastian. There is also a whole new world of temptations that being away at college offers.
Steps must be taken to get over that first hump as a new college student. Sebastian said that students do not fail out because they are not smart enough, but because they are not disciplined enough. By creating learning communities and cohorts to help students to become acclimated to college life.
One student asked Sebastian the important question, why come to Monmouth University? Sebastian wants to move up and advance in his career. He also wants to do something in his life worth meaning. Some schools need a new President because they have terrible problems to deal with, he said, but it is a golden opportunity to come to a place where things are rolling.
Monmouth offers many benefits and favorable conditions, such as being economically stable, well managed, it has a good study body, and a great location. Sebastian said that Monmouth is already on auto-pilot in a good direction. He also likes that Monmouth is a Liberal Arts university with professional studies, in a community that appreciates the institution's presence.
A unique feature at Monmouth, Sebastian said, is that it draws the community in. This is an attribute to how Monmouth behaves, and that it attracts local businesses and community members to attend events on campus. People are directed inward, and want to stay, even if they are not students. Not just students and faculty enjoy what Monmouth has to offer, but people surrounding the university do as well, he noted.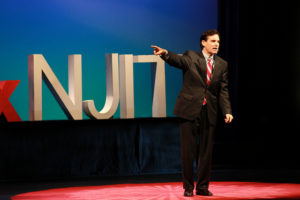 Students also asked Sebastian about his opinion on alumni relations. He believes that having a strong relationship with alumni is very important for a university and vice versa. Having a connection with your alma mater is a way to connect with job opportunities and move yourself forward. Sebastian said that it is essential to create a community where alumni can connect professionally and socially, not twenty years after graduation, but immediately after.
While visiting and meeting the Monmouth community, Sebastian said that meeting the faculty, professional staff, and students has been a great experience."Someone's doing something right," said Sebastian. It is powerful to hear the maturity and the consistency of the responses from these groups, about why they have come to Monmouth, and why they've chosen to stay.
Before the information session ended, Sebastian said, "I've loved every interaction I've had here [at Monmouth] and I've particularly loved the ones with students."
With two more candidates left to meet, the presidential search is drawing closer and closer to a conclusion. Don't forget to attend the next student session with Dr. Paul Richard Brown on Friday, February 1st at 5pm. in Wilson Auditorium.