(The Verge) – Sunday night found billions of people across America glued to their TV screens (statistic via: Entertainment Weekly). A staggering amount of these viewers, as can be expected, tuned in from home to watch the heated match between the Baltimore Ravens and the San Francisco 49ers at Superbowl XLVII. Several more joined in at half-time to catch Beyoncé's highly-anticipated performance, while many were simply eager to see the slew of entertaining commercials that have become synonymous with Superbowl season. For others, however, the excitement was over a show of a completely different variety- HBO's Girls.
The newest episode of Girls premiered Sunday night, and as always, it did not fail to impress. The series, which is now well into its second season, has recently been receiving a great deal of attention and publicity. Lena Dunham, the 26-year-old creator, as well as star of the show, received an award at last month's Golden Globes for "Best Actress in a Television Series" under the category of Comedy. The show itself also won a Globe in the category of "Best Television Series", once again for Comedy (source: www.latimes.com). Girls, deemed by some as the "hipster" version of Sex and the City, focuses around the lives of four friends in their early twenties living in New York City. It highlights and details their outrageous adventures, the hilarious, yet relatable situations in which they find themselves, as well as their trials and tribulations. The episodes delve into issues that twenty-somethings face in their everyday lives such as love, searching for jobs, financial independence, breakups, and everything in-between. What differentiates the show from others of the same niche is the creative and unique way in which these issues are tackled, not to mention the show's incredible soundtrack filled with indie rock and dance hits that make the show that much more enjoyable.
What really drives the show, however, is its eclectic mix of characters. Hannah, the show's star, played by Dunham, is a quirky and uninhibited, aspiring young writer. She is resilient and strong-headed, yet her readiness in accepting others' advice, no matter how ill-thought-out or unorthodox, often serves as an equally great source of problems for her as it does a source of entertainment for viewers. Marnie (Allison Williams), Hannah's best friend on the show, is the polar opposite. She is a straight-laced, level-headed young woman who appears to be the most "put together" of the bunch. However, in the second season, we see her character go through some drastic changes that shake this demure image and displays her in a much more vulnerable light. Jessa (Jemima Kirke) is another friend of Hannah's. Her free-spirited personality and Bohemian life-style often puts her at odds with Marnie, which adds an element of drama to the show at times. Lastly, there is Shoshanna (Zosia Mamet), Jessa's hilariously and endearingly innocent and naive cousin. Despite her lack of real-world experience, Shoshanna, more times than not, serves, as Lena Dunham describes in the show's commentary, "the voice of wisdom". Together, the cast does a beautiful job of portraying the characters in a realistic fashion, making Girls as believable as it is entertaining, and assuring that the show really does offer something for everyone. Whether you consider yourself a Hannah, Marnie, Jessa or Shoshanna, one thing is for certain- Girls is the show to watch out for.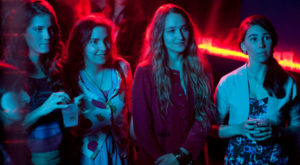 Girls airs on Sundays at 9pm on HBO. Don't have HBO? No worries! Watch full episodes of the the show online at HBO.com. You can also catch episodes you missed on HBO on-demand or subscribe to HBO GO to see episodes of Girls and other HBO series before they air.