WEST LONG BRANCH, NJ– The Monmouth University PRSSA teamed up with Mary's Place By The Sea to host Melodies By the Sea in the Student Center on Thursday, April 9, 2015  in order to raise funds for women battling cancer.
Hundreds of students lined up in the Student Center on Thursday, April 9, 2015, to attend PRSSA's event Melodies By the Sea.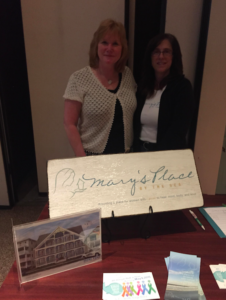 According to Mary Harris, a professor at Monmouth University and the director of PRSSA, Melodies By the Sea was designed to benefit "Mary's Place By the Sea, which is a non-profit that offers services that support women with cancer. It is pretty much a bed and breakfast in Ocean Grove, New Jersey, and they charge these women absolutely nothing to stay at the bed and breakfast and to also partake in different services, such as yoga on the beach, healthy cooking workshops, drawing classes, and massage therapy. It is the last vacation that some of these women will ever take because they are terminally diagnosed."
The event was held at 6:00 on the second floor of the Student Center, which granted a lot of space for activities. The space had white string lights hanging from each end of the room, a big projected photo of a beach, and had shells and white flowers on the tables. The décor was tasteful, appropriate for the event, and added a calming tone to the room.
Upon entering there were food and drinks set up in the middle of the room, which included Chipotle and Chick-Fil-A. According to Jenna Lally, newly elected client relations and secretary chair of PRSSA, her only regret about the setup of the event was to not have placed the food in the middle of the room. "With all of the Greek organizations here, it is hard to manage the traffic," Jenna said.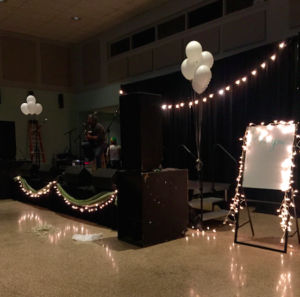 The left side of the room had several tables, a projected image of a beach, and a line of silent auction items. The items offered included food baskets, authentically signed sports gear, jewelry, and much more. On the opposite side of the room was the stage in which the entertainment of the night would sing their melodies. There were beanbag chairs set up in front of the stage for people to sit on and enjoy the music.
Lined up against the back wall were a few tables of different organizations. One table included two representatives of Mary's Place By the Sea: Clare Freda and Tease Gould. Freda is the chair administrative assistant of the organization and Gould is the chair of the fundraising committee. The two women were astounded by the outcome and were happy to spread awareness to hundreds of people.
Gould shared that the organization typically holds two main events: a walkathon and a gala, and recently added a concert at the Stone Pony to the list, which will be held on October 3. "This event is blowing me away!" Gould said. "I cannot believe the turnout, this is wonderful. We are exciting to be getting the word out about Mary's Place to the community."
According to Harris, the event had over 400 people after the first hour. "I have never seen an event like this on a Thursday night at Monmouth, so we're really excited about the turnout," Harris said. "We were originally trying to raise $5,000, but I think that we will easily break $10,000 at the rate that we are going."
To learn more about Mary's Place By the Sea, visit https://www.marysplacebythesea.org/