(The Verge) – It's been another wild and unpredictable season of college football, so here's what to expect from the biggest, baddest, bowl games, known as the BCS.
Rose Bowl- Two of the nation's best ground attacks face off in Pasadena in the 2012 Rose Bowl. Stanford's Stefan Taylor leads one of the most potent running games in the country for the 6th ranked Stanford Cardinals. He is joined by  an NFL caliber tight end in Zack Ertz and a defense that was stellar against the run and lead the nation in sacks. The Cardinals, although now without Andrew Luck, are deserving of representing the Pac-10 in this game.
Stanford's stout defense will be up against one of the best running backs in college football history in Wisconsin's Montee Ball. He is joined by another solid back, James White. Wisconsin's running game is dominant and can move the ball on almost any defense. However, the Badgers are benefitting from Ohio State and Penn State's sanctions which prevent them from playing in bowl games. So Wisconsin, a team that finished third in its own conference shouldn't have any chance against a top ten team like Stanford, right? Wrong. Any team led by a legend like Montee Ball can at least make the game interesting. However, the Cardinals are a more complete team. Final prediction, Stanford-27 Wisconsin-17
Orange Bowl- ACC champion Florida State faces underdog Northern Illinois in this years Orange Bowl. FSU posses some of the top talents in the


country on both sides of the ball. Quarterback BJ Manuel is as dynamic as they come and causes problems for all opposing defenses. Defensive end Bjorn Werner is one of the best at his position. Manuel's counterpart, NIU's Jordan Lynch, is one of the most versatile players in college football. Lynch threw for nearly 3,000 yards and rushed for over 1,700. He is what makes NIU go. Although Lynch is an exceptional talent, and widely underrated, FSU has too much talent to lose. Don't be surprised if its closer than expected, however. Final prediction- FSU 30 NIU-24
Sugar Bowl- SEC superpower Florida taken on Big East champion Louisville. The Cardinals won the Big East on the back of freshman sensation Teddy Bridgewater. They will need Bridgewater to make superhuman strides to take down the fourth ranked Gators. Florida's dominant defense was third in points per game allowed, and top fifteen in pass and rush yards allowed. They are battle tested in the famed SEC and have an athletic QB in Jeff Driskel and workhorse tailback Mike Gillislee. The Gators were a couple plays away from playing in the national title game, but will have to settle for this year's Sugar Bowl. Final Prediction- Florida 37 Louisville- 17
Fiesta Bowl- This game figures to be the highest scoring and arguably, the most exciting bowl game this year. Oregon's high powered offense vs. Kansas State's dynamic leader at QB, Collin Klein. Oregon's freshman QB Marcus Marriota commands the option well and makes head coach Chip Kelly's spread offense so lethal. He has the speed to break away from linebackers and the arm to beat unsuspecting defenses. As good as Mariotta has been, he is not even the offense's best player. Tailback Kenjon Barner, a Doak Walker finalist, is one of the best backs in the country. His five touchdown game against USC showed his true ability. The most dangerous player in Oregon's offense is sophomore De'Anthony Thomas. Running, receiving, or in special teams, Thomas is one of the fastest and most difficult players to tackle you'll find anywhere. Oregon's offense is bound to put up points, averaging just over 50 per game this past season.
K state was one bad game away from playing in the national title game. However, the Fiesta Bowl is an impressive consolation prize of the Wildcats. The catalyst is star QB Collin Klein. A Heisman finalist, Klein has scored 37 touchdowns this season, and more are bound to come. Kansas State is led on defense but Arthur Brown, one of the best linebackers in the country. The Wildcats have an impressive display of talent that lands them in this years Fiesta Bowl. This game may come down to whichever team has the ball last. After the dust settles, look for the Wildcats to come out on top. Final prediction KSU 45 Oregon 38
Time for the big one. The 2012 BCS National Title game: Alabama/Notre Dame. Nick Saban's Crimson Tide have won two of the past three national championships and are primed for another run at the top.  Junior quarterback AJ McCarron is the signal caller for the Tide, throwing for 26 touchdowns and only 3 interceptions. A dominant run game centered around Eddie Lacy and TJ Yeldon makes for an impressive Alabama offense. They also posses one of the best offensive lines in the country, with center Barrett Jones leading the way. Defensively, they allowed only 10.7 points per game and finished in the top 10 in rush and pass yards allowed. Saban's boys have all the pieces for another national title.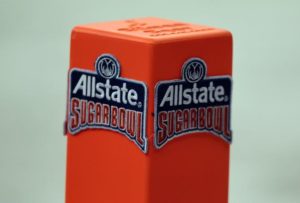 Brian Kelly's Fighting Irish are undefeated for several reasons. They allow just 10.3 points per game and have what is arguably the best front 7 in college football. Linebacker and Heisman runner up Manti Te'o leads the nation's best defense, which has rose to every occasion this season. Freshman QB Everett Golson has played much older than his age, orchestrating the Irish offense well this season. His backfield contains Cierre Wood, Theo Riddick, and George Atkinson, all who are very capable of running the ball. Tight end Kyle Eifert is an All-American and Golson's favorite target, especially in the red zone. The Irish have answered every test this season and have one more hill to climb.
In a game that figures to be all defensive, look for Notre Dame to find a way to win. Although Alabama is favored, Notre Dame is having a Cinderella season. The consistent play and emotion from Te'o will some way, some how, lead the Irish to their first National Title since 1988. Final prediction ND 13 Alabama 10.