WEST LONG BRANCH, N.J.–Delta Tau Delta hosted its annual Delta Queen competition in support of its philanthropy, the Juvenile Diabetes Research Foundation, on Wednesday, Feb. 17, at 9:30 p.m.
The venue, Pollak Theater, was filled with members of several different Greek organizations on the day of the event–not surprising, since the event was 50 percent mandatory for Greeks. Tickets were sold for $5 in advance and $7 at the door. All proceeds went toward JDRF, with a whopping $6,510 being raised in total.
The competition started during the fall semester with various contests involving "likes" on social media, a banner competition, penny wars, and fundraising leading up to the final event. The social media contest was considered to be one of the most involved. Every organization took part in tagging others to like their individual posts on the fraternity's Instagram page.
"I tagged everyone I follow on Instagram to like our picture," said Michelle Toscano of Alpha Xi Delta.
"The social media contest was definitely a great way to get our generation more involved," said Tianna Fougeray, sophomore at Monmouth.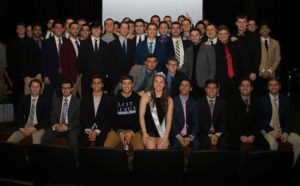 The prospective Delta Queens included contestants from Alpha Kappa Psi, Alpha Omicron Pi, Alpha Xi Delta, Delta Phi Epsilon, Phi Sigma Sigma, and Zeta Tau Alpha. The event itself featured questions, game show-like competitions, and a talent portion for the contestants. They performed various talents including upside-down painting, makeup, and dance routines.
While each contestant was competitive, it was all in an effort to support JDRF. The fundraising portion was the most important when it came to getting ahead of the competition.
Last year's Delta Queen, Emily Rodrigues of Alpha Xi Delta, ultimately handed down her crown to Shannon Marren of Alpha Xi Delta, keeping the crown within the sorority. The new Delta Queen is someone who holds JDRF close to her heart. She raised over $1,000 during the fundraising portion alone.
"I'm so excited and honored to be Delta Queen. Thank you so much for an amazing opportunity and raising so much money for JDRF," Marren said, thanking Delta Tau Delta.
Dylan Vargas, brother of Delta Tau Delta, was in charge of putting together the event. Being their major event and consisting of over a semester of mini-events, a lot of planning was needed. The brothers thanked all of the contestants for their hard work at Delta Queen and for an overall amazing night.
Considering it was only the 2nd annual Delta Queen that Delta Tau Delta has put together at Monmouth, it was a very successful event. The brothers were able to get many organizations involved to raise money for a great cause.