WEST LONG BRANCH, NJ—On September 2011, a new trend in technology emerged into the app store of everyone's cell phone. Snapchat was released to the public and became an instant hit, especially for college students. As many of us already know, Snapchat is a way to talk to someone with pictures and texts that only last from one to ten seconds and then disappear.
More than four years later, on April 6, 2015, Snapchat updated their app once again, with emojis taking the place of the best friends list. This left people very confused. Emoji's are the small figures that are on smart phones which allow people to add a face or a hand gesture or even a heart to their messages or posts. They allow people to add some emotions to their text messages. When emojis came out some of the figures were unknown of what they actually meant, some still are that way. Now that snapchat has incorporated these figures its adds more confusion to the world of emoji's.
"What does the smiley face mean next to *****'s name?" said junior Rebecca Gaona, a snap-a-holic.
Another snapchat enthusiast, Colleen Howard, remarked, "Jess, why is there a 19 fire next to your name on my Snapchat?"
Each and every one of the emojis actually has their own meaning: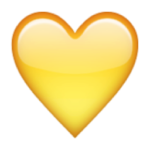 The Golden Heart: The person with a golden heart next to their name is your #1 best friend, but you are also their best friend; they talk to you the most and vice versa. This is the person that you have a conversation with over Snapchat day in and day out. This could be your sister, your best friend from home, your boyfriend/girlfriend, or even your love interest.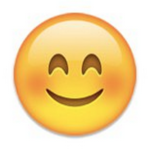 Smile: This is a person that is on your top friends list, and you are also on theirs. But you are not their best friend and they are not yours. They are just one of the people in your squad that you share Snapchats back and forth with, but not the person you Snapchat the most.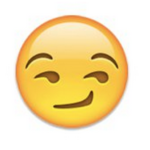 Smirk: When you see the smirk, you should feel really good about yourself. This is a person who you Snapchat occasionally or even often and you're on their top best friends list. But here is the good part—they are not on your best friends list. So this person does not Snapchat a lot of people but Snapchats you often. This person loves you, so smile about it.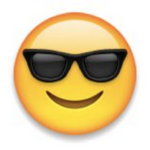 Shades: Put those shades on because you two are so cool. You have a mutual best friend, so does that make you two best friends? I would say yes!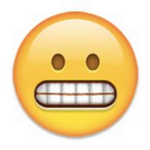 Grin/Grit: UH! OH! This is not a good one. Your #1 best friend is cheating on you. This means that the person who has the grin/grit next to their name has the same #1 best friend that you do. You are sharing the same best friend with this person. so go out there and confront that best friend as to why you aren't their best friend.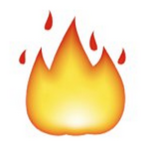 Fire: You two are on FIRE! This means that you have been Snapchatting back and forth with someone consistently for the last few days. The number that comes in front of the fire emoji will tell you how many days you two have gone back and forth with sending Snapchats.
With this handy guide, next time you are sending out a mass Snapchat, you won't be confused when you see all of these random emojis next to all of your Snapchat friends.