WEST LONG BRANCH, N.J. – An impressive array of world leaders, amongst the citizens of South Africa, gathered in Soweto on Dec. 10 to pay respect to Nelson Mandela who passed, at 95, on the previous Thursday.
As South Africa's first black president (where he won the 1994 democratic election by a landslide), Mandela was the guiding principle in leading the nation into a more unified state that was marred by decades of apartheid, which is a system of racial segregation that was enforced through legislation.
Mandela's legacy as the integral force behind dismantling the segregationist terms of apartheid was a long and arduous journey. It culminated with his release from 27 years in prison in 1990, for having taken part in a low-level coup to overthrow South Africa's apartheid regime.
Mandela joined the African National Congress (ANC) in 1942. The ANC is a liberation group designed to bring the nation to a more unified society with regards to the citizen's political, financial, and racial differences – and more specifically, end apartheid.
During Mandela's earlier fight against the oppressive government using nonviolent protest, he came to a decision by 1961 that armed protest would be more successful in effecting change, according to a 2013 biography in his name. That fateful decision is what landed him in prison for political offenses, namely sabotage and treason.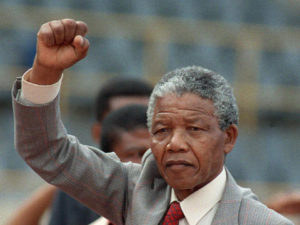 Serving time did not diminish Mandela's character or worth. In fact, it was in this period that he truly made a mark for himself in earning a Bachelor of Law degree and gaining worldwide support for his symbolic imprisonment as an individual fighting for civil rights for the people.
As a political prisoner, Mandela received the harshest living conditions and daily abuse. He did not let those external factors affect his spirit and will as he transformed into a staunch warrior of peace.
Instead of isolating himself further from higher authority, Mandela learned Afrikaans, the language of the ruling regime. He exercised pragmatic negotiation and conducted himself with dignity. By the time of his release, after over a quarter century of incarceration, he masterfully gained the respect of the wardens who once treated him as a vilified enemy.
Once released from prison, Mandela worked diligently with President F.W. de Klerk to establish the country's first multiracial elections. When Mandela became president, he served one five-year term, for which he chose to step down in 1999, though he could have easily stayed for a second term.
With the exclusion of the armed strike leading to Mandela's sentencing, he spent most of his life spreading the ideology of a peaceful unification to the end of the violent and turbulent climate that apartheid created. He carefully treaded between negotiating with the supremacists of the Afrikaners, while trying to appease his fellow black South Africans and prove that violence is not the way to achieve the greater good for the people and the nation.
The defining symbolic gesture that exemplified Mandela's longing for a unified nation, was when he stepped into the stadium in Johannesburg at a 1995 rugby World Cup in South Africa and put on the green jersey of the national team, the Springboks.
The sport, dominated by the white Afrikaners and which had mostly white fans in the audience, cheerfully chanted "Nel-son, Nel-son," as the president walked the grounds. The Springboks won that championship match.
In his lifetime, Mandela was a man who sought to have his brothers and sisters united hand in hand, in peace. He wanted the black South Africans to have a chance to vote, and be prosperous and treated respectfully in their native land.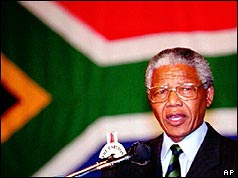 Mandela and President de Klerk, were jointly awarded the Nobel Peace Prize in 1993 for their accomplishments in abolishing apartheid.
Mandela was a source of light, wisdom, and inspiration. The four-hour service memorializing Mandela was filled with passionate sentiment, tributes and joyful music. Leonard Teboho, 32, wore a shirt with the leader's face and the words "Father of the Nation," across it.
The ceremony at the First National Bank Stadium had over 95 heads of state in attendance. Some of the leaders present were from: Afghanistan, Australia, Brazil and Scandinavia. From the United States, former presidents George W. Bush, Bill Clinton and Jimmy Carter all paid their respects, and joined Barack Obama, who was also in attendance with wife, Michelle.
The most important (and affected) guests were the citizens of South Africa, who mourned a leader whose primary mission was to spread love among whites and blacks. Gen. Thanduxolo Mandela, a relative referring to Mandela's clan name Madiba, confirmed those views in an interview with Washington Post's chief African correspondent, Sudarsan Raghavan,  "…At the core, he was a man of the people. A simple man … I am sure Madiba is smiling from above as he looks down at the multitude of diversity gathered here, for this is what he strove for – the equality of man, the brotherhood of humanity."