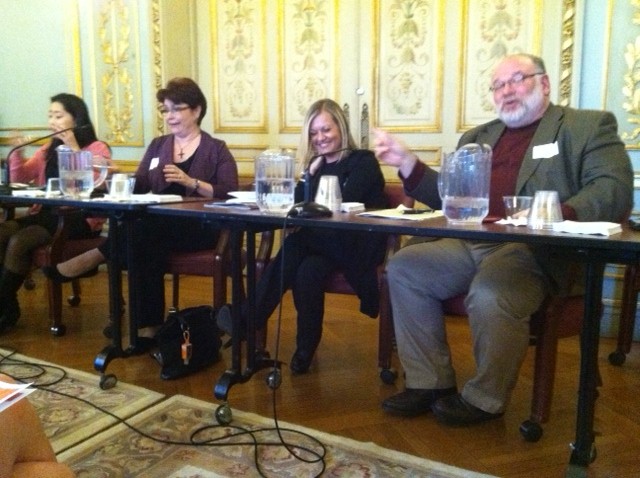 West Long Branch, NJ (The Verge) – The 2nd Annual Department of Communication Career Event was held yesterday, February 28th, in Wilson Hall at Monmouth University. During the first portion of the event, students were able to attend several information panels on an area of their choice in communication, each of which were hosted by successful men and women in fields of radio, television, communication studies, journalism, and public relations. I had a chance to attend the "Careers in Public Relations" panel with dozens of other Public Relations students and recent alumni. The room was packed with silent mouths and open ears as the panel showered us with unforgettable tips and words of encouragement.
The hour-long segment was hosted by Kristine Simoes, who is a professor at Monmouth University and member of the communication department, and the panel consisted of Inna Shamis of AvantGarde Communication, Dawn Fallon of Communication Partners and Associates, Ken Jacobs of Jacobs Communications Consulting, and Ann Willets of Utopia Communications Inc. Simoes led the group with a series of questions in which the men and women answered with enthusiasm and an obvious passion for the field of public relations.
The panel began by emphasizing the importance of making connections early on, and to network everywhere you go. They explained that you can network with anyone, from your neighbor to your friends to complete strangers on sites like LinkedIn. In every aspect of life, there is an opportunity to make and keep connections. Ken Jacobs explained that it took him years before he realized he needed to network, and now he says he is considered a great networker. "Learn to network now," he smiled, and added "A joy of this business is that you really do meet wonderful people." Networking may seem difficult for college students who are juggling classes, homework, work, a social life, spending time with family, and finding a few hours to sleep, but making connections is something students cannot put on the backburner. The earlier connections are made, the faster graduates will successfully land a job.
While the panel spoke about making connections, they transitioned into reassuring the audience that it's okay to make mistakes. Each member of the panel discussed a mistake or low point in their career, and that making mistakes or failing is crucial to future successes if you can learn from your actions. Ann Willets, who is CEO of her own company, spread words of inspiration by saying, "Don't be afraid to fail. Sometimes it is the best thing that can happen to you." Inna Shamis added, "You're gonna make mistakes, but if you're able to recognize it, I think they'll be able to appreciate you more for it."
Getting a job is half the battle, but there are issues you are faced with when in the workforce as well. This is something college students don't think about as much because they are so focused on finding a job, so insight on ethical issues in the workforce was an interesting but important topic that I was glad the panel discussed. Each member of the group explained a time when they had to decide to do something to keep their job, or to hold back because they knew the request was unethical. Dawn Fallon, who graduated Monmouth in 1998, elaborated on ethical issues in the workplace, and noted, "There's the passion that you bring, but there's a point of how far you will go." Willets agreed, and tacked on more knowledge. "This can be a dirty, ugly business. You have to have some integrity. And you need to be true to yourself." These words should be remembered by all who listened in on the panel.
A career is something you should love doing, and something you should be passionate about, but if someone is asking you to do something you feel is wrong, take a step back and decide if it's worth it or not. "If something doesn't feel right, it usually isn't," Willets explained, and Jacobs furthered her point by stating, "The brain constantly fights the gut. Follow your gut. It's there for a reason." This point can be carried through all facets of life, not just in the workplace, and it was certainly a part of the most memorable advice I took with me from the afternoon.
Finally, the group concluded with a closer look at the importance of writing. "Do whatever you need to improve your writing," Jacobs told us. The panel urged us to make our writing stand out. Don't let there be a hint of grammatical errors. Spell check. Be creative. Put your heart into what you say. Spell check. Spell check. Spell check. In the business of public relations, there couldn't be more emphasis on the importance of having strong writing skills. It's just as crucial as networking, and also has a lot to do with making connections. A well-presented email, resume, or cover letter is going to help you establish a connection, whereas an email littered with mistakes won't be taken seriously, and it will surely be moved to the trash folder.
The panel left us with a great deal of inspiring knowledge that students need to motivate themselves. Sometimes, it's hard to keep pushing and to continue improving, connecting, and listening, but the group left an impression on audience members that could not be forgotten. It was an event that any public relations student should have attended, and the advice given by the four women and men in the field was irreplaceable.