UNION BEACH, N.J. (The Verge) – 39th United States president Jimmy Carter and his wife Rosalynn helped re-build homes in Union Beach on Oct. 12 in coordination with Habitat for Humanity. The event was the conclusion of the 30th annual Carter Work Project, a week where the Carters' give back to people who need assistance in building housing.
The week long event made more stops this year than in any year past. The Carters' started the week in Oakland, Calif and San Jose, Calif. followed by Denver, Colo. On Thursday and Friday, they worked in Queens, New York before traveling to Monmouth County on Saturday to conclude the 30th annual Carter Work Project.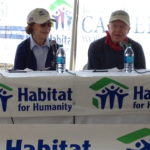 In his press conference, former President Carter addressed how much Habitat for Humanity means to Rosalynn and him. "It's been really gratifying for us to see all the work that has been done already, and all of the volunteers that have turned out," said President Carter. "We go in, and make sure that the local people decide… what kind of houses to build, and let the local people decide, like Nancy, who of the homeowners are going to benefit from this project."
Nancy Dorset, director of Habitat for Humanity of NorthEast Monmouth County, said that since Superstorm Sandy, "We have had 40 critical home repairs completed in our area, mainly in Union Beach." She added, "we're so pleased to host this project and to bring attention to our work here in Monmouth County to provide affordable housing, and to help rebuild homes for families affected by Superstorm Sandy  and even though this is written out in front of me, this comes from my heart."
Sponsors of the Carter Work Project also came out to volunteer at each of the sites. Brenda Rose-Dulan, Vice President of Wells Fargo, volunteered along with a fellow co-worker. Wells Fargo was the platinum sponsor of this years Carter Work Project. "We believe that we have the capability and the disposition to change peoples lives… by going out, rolling up our sleeves, putting nail[s] to hammer[s], and making a difference," said Rose-Dulan. " That's part of what we believe."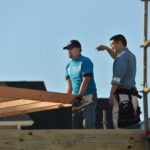 Along with corporations, church groups and Union Beach residents,  students and staff from Monmouth University volunteered building houses and coordinating media.
Monmouth University's president, Dr. Paul Brown, was also working hard on House 15. "Monmouth is a part of the community, and the community is a part of Monmouth," said Brown. "We absolutely have to work together." Throughout the day, Brown was helping build a home by laying foundations for walls.
Students also got involved in other roles besides rebuilding. Seniors Lauren Pharoh and Lauren Meiler assisted Monmouth's chapter of PRSSA (Shadow PR) in helping with Social Media, checking in volunteers and media, and assisting reporters in getting interviews. "I think it is important, especially now." "It's crazy to think that people waited this long without housing, so it's great to see people helping each other out and helping their community," said Milner."These people [the Carters' and Pres. Brown) come from having so much, but coming down to this level they are not just observing, they're here actually building."

The Carter Work Project allowed for groups across New Jersey to help Union Beach make progress in their recovery after Superstorm Sandy. Monmouth University was one of the many groups present to make this event a significant milestone in rebuilding Union Beach.