(The Verge) – The understated, gallant Julian Sands graced the stage of Pollak Theater on Oct. 18 in his performance, A Celebration of Harold Pinter, under the direction of John Malkovich. Thanks to the work of Monmouth's Arts program coordinators and Mr. Sand's management, the community near Monmouth University was treated to this insightful show, which was a rare, one-stop performance to unveil the spirit of Harold Pinter through anecdotal retellings of his life, poems, and prose.
Julian Sands is an English actor with a career spanning just over three decades. His characters are wide and varied, and  in his early days he played roles such as: the romantic free-spirit George Emerson in A Room With a View, or the breakthrough part as the photographer/journalist John Swain in Roland Joffe's The Killing Fields, and an elusive interloper in the surreal film, Naked Lunch. More recently he has appeared in TV's 24 and Dexter and in the films The Girl with the Dragon Tattoo and Impromptu.
Harold Pinter, a recipient of the Nobel Prize in Literature in 2005, was performing a special recital of his selection of poems in London. In that year of that particular production, Pinter began to fall ill, as cancer began to afflict him. That is what prompted the Nobel Laureate to approach Julian Sands to perform a rendition of Pinter's work (under Pinter's strict guidance of course!).
Though Sands was chosen as the replacement to represent these intimate works, Pinter had a strict vision of precisely how he wanted his poems to be executed – with every word, thought and pause carefully delivered. And, Sands delivered with tremendous success.
During Sands' stint of recreating Pinter's pieces, the two developed a unique friendship, which blossomed out of  an initial mentor-apprentice relationship. Sands soon entered Pinter's social and professional sphere, seeing Pinter's cricket enthusiasm, and growing close to Pinter's wife, now widow, Lady Antonia Fraser. The mild-mannered Sands bonded with this writer, who spoke and behaved with such intensity and assertion that, according to Sands' recollection, placed him in awe – and he gladly listened and learned all he could.
A Celebration of Harold Pinter was conceived after Pinter passed in 2008, as Sands decided to recite some of Pinter's poem at a public event as a memorial tribute in a church in Los Angeles.
Sands' version of the tribute was to include extractions from obituaries and personal reflections on the celebrated writer. He recorded the event with an obscure device in his pocket, with which he subsequently sent off to some friends, due to such a positive buzz from the audience.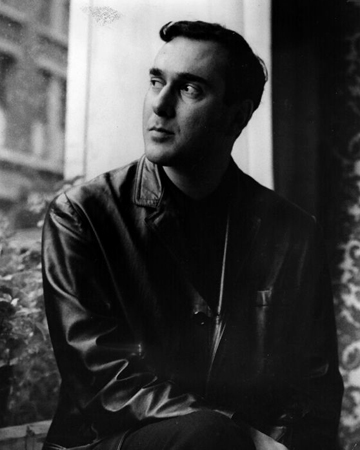 One of those friends was the brilliant actor/director John Malkovich, who immediately saw that something wonderful could be created from these readings. Hence, the theater world was treated to Julian Sands in A Celebration of Harold Pinter (the tour premiered in 2011 at the Edinburgh Fringe Festival and later ran through Britain, San Francisco, Los Angeles, and New York).
Everything about the show was modest, from the plain stage to Sands' demeanor and simple black suit with a loosely, collared, white, button-downed shirt. Sands would refer to what appeared to be a soft-covered journal, with big blue tabs marking specific notes. His voice was so unassuming and gentle as he spoke highly of or made quips about Pinter's ways. The elocution was effortless, even when Sands delivered the "F" word in a raised voice, it was more with a wink and a nod, rather than being off-putting. In fact, due to the proper placement and timing, it had quite a warm, humorous effect.
Pinter was wise in choosing Sands to read as his replacement for the recital back in London, when he was unable to continue doing so. Pinter was respected for his plethora of work as a playwright, actor, director, poet and more, but he did also have a reputation with some as being extremely forthright. Sands' work, which memorializes Pinter, opens the outsider to a more intimate, human, and enlightening version of Pinter. It showed how serious Pinter's convictions were with life, politics and the game of cricket – and how much he was devoted to his widowed wife Lady Antonia.
Throughout this affectionate and subtly humorous performance, Sands strategically recited from the following poem that was written in 1995, which begins with "I know the place." He ended his act with the lines: "Everything we do/Corrects the space/Between death and me/And you." A poignant ending – to a poignant tribute.
Mr. Sands was extremely kind to allow me a few minutes of his time after the show to meet him and get his autograph. He showed even more thoughtfulness with his time by responding to my inquiries via email reply – thanks to the assistance of his representatives at Baylin Artists Management.
Read on for the Q&A and a quick round of "Pick Your Preference":
Q&A:
1) How did you feel when you were first approached by Harold Pinter in 2005 to be taken under his wing and recite his work/poems? Were you nervous in the least?
l felt very honoured when asked by Harold to read his poems at a public recital on his behalf …but yes very anxious that l would not do them justice..
2) Did your perception of Mr. Pinter change through the course of working with him and then after his passing (as you learned more revelations about his work/poems)?
My perceptions of him didn't really change through continued study of his work … but my respect and admiration is ever increasing.
3) You described Mr. Pinter as having an "animal magnetism." Can you elaborate on that? Would you say it is his zeal for life – the way he executes verbal and nonverbal gestures?
Certainly zeal and gestures are a part of his presence but I think animal magnetism implies something other … Charismatic energy perhaps.
4) In the Q&A after your show at Pollak Theatre on October 18, you said that working with Mr. Pinter was like undergoing the craft in a master's class. For an actor with a rich background of work and experience to draw from, what would you say you took away most from your mentorship with Mr. Pinter? And how has that training transformed you as an actor/director/writer? Are there any drawbacks?
No draw backs … he taught me to value stillness … and the power of words as sound effect.
5) Are there any aspects of Pinter's themes or messages in his work that you connect to the most, why?
I connect most with his subversive sense of humor. He makes me laugh.
Pick Your Preference:
Tea or coffee? Coffee
Book or Nook? Book
In the following line of an excerpt of Pinter's poem: "Everything we do/Corrects the space/Between death and me/And you" – if you were to re-interpret this line, would you keep the word as corrects or change it to connects? I would keep the word 'corrects'.
Julie Christie or Charlotte Rampling? Charlotte Rampling
And lastly (for your cult fans), Warlock or Gothic? Gothic

Harold Pinter's play Betrayal is running now on Broadway at the Ethel Barrymore Theatre. It unravels in reverse order, uncovering the dealings of a love affair. Starring Daniel Craig, Rachel Weisz and Rafe Spall, directed by Mike Nichols. Opening Oct. 27, 2013 and closing Jan. 5 2014. Many shows are already sold out. Pricing: $57-$152.
Box Office: Tele-charge (212) 239-6200 or (800) 432-7250 or www.telecharge.com