WEST LONG BRANCH, N.J. – Life is hard. College life is, perhaps, even harder – or at least it may feel that way. When this stress becomes overwhelming and difficult to manage, it may lead to multiple, more serious issues such as inability to concentrate, constant worrying, moodiness, anxiety and depression.
There's no doubt that there are increased academic pressures on students. Additionally, with regards to new students in their first two years of studies, they must learn how to cope with these new demands and manage their time well to balance their personal, social and academic lives.
On top of trying to succeed in class, today's generation of students in higher education are faced with mounting worries of exorbitant debt from student loans and decreased prospects of fruitful job opportunities. That leaves room for a great deal of stress and feelings of helplessness to accumulate.
It is no wonder that it has been reported and confirmed by Jerald Kay M.D., Professor and Chair of the Department of Psychiatry at the Wright State University School of Medicine in a recent article that "…all of the national surveys [regarding colleges]… show a distinct rise in the number of mental health problems." The article continues with Kay's findings, noting, "…in the past 15 years, depression has doubled and suicide tripled."
According to the American College Health Association-National College Health Assessment (ACHA-NCHA), it was found in 2011 by a nationwide survey that approximately 30 percent of college students reported that feeling depressed severely affected their ability to function.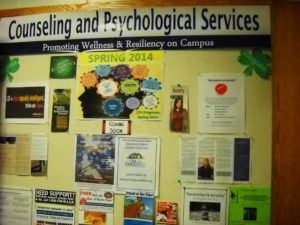 Naturally, academia is a competitive environment causing a student to feel pulled in many directions, which in turn, may create a feeling of having less control of their lives. Each individual has different coping skills and degrees of which the stress level is exceeding their mental, emotional, and cognitive thresholds – in other words, when everything just becomes too much to handle.
The physical signs of undue stress and anxiety would include things such as: overwhelming panic, heart palpitations, choking sensations, insomnia, upset stomach, and much more. The impending concern about depression and anxiety is that it lends a higher risk for potential suicidal tendencies.
Dr. Franca Mancini, Director of Counseling and Psychological Services for Monmouth University, offered insight on these matters. She concurred with the studies, saying that anxiety and depression have increased in recent years, among Monmouth's student body.
Mancini stated that the reasons for this rise are, "many and interrelated [due to] individual personality factors; transitional issues; increased academic pressures; anxiety that isn't addressed properly… also, students coming in previously diagnosed with anxiety or depression…that's a big part of the reason…why we are seeing the increase."
In the audio clip (below) you can hear more of that conversation and Mancini's responses regarding the following: What could be the reason some students choose not to seek counseling? Further, what sort of services/programs does Monmouth have in force as assistance for the students and training for faculty and staff to lessen the level and frequency of anxiety and/or depression?
Mancini also shared the positive news that Monmouth University has been awarded the JedCampus Seal (in 2013) for its "comprehensive mental health promotion and suicide prevention programming on campus," which is stated on Monmouth's website. The Seal is valid for two years, and currently there are 30 noteworthy schools which were granted this award – some of them are: Columbia University, Boston University, Cornell University and the University of Kentucky.
The Counseling and Psychological Services department also sends emails regarding special activities on campus, which, if applicable to a student's concerns, may serve as a worthy event to attend. Other emails may involve interactivity with a game that may be done online, such as the recent simulation called Kognito Interactive, which ended on March 14. The prize for this was a coupon for a Jersey Mike's sub, chips and drink. Interested students should keep a lookout for services that may be suitable for them.
If any student should feel that life and academic pressure are just too much to handle alone, there are services available that are free and confidential at the office of Counseling and Psychological Services on the third floor of the Student Center. The office number is 732-571-7517 with general office hours from 9 a.m. to 5 p.m.
Video created by Bounlad Phengsom.