WEST LONG BRANCH, N.J. – On April 2, Monmouth University's Student Government Association (SGA) and Student Activities Board (SAB) eagerly announced the performer for this year's Springfest. Sammy Adams (not to be confused with the beer) will be performing on May 4 on Shadow Lawn, in front of Wilson Hall.
When this identity of this hip-hop artist was revealed, the buzz around campus seemed to be not only a swell of excitement, but also confusion. It appears that many students may not actually know who Sammy Adams is. Going to Springfest, hoping to move and groove (and of course, eat Aramark catering) without knowing anything at all about the headlining artist can be, well, a bit off-putting. So let us help you remedy that problem. Just who is this rising rap sensation?
Adams, who was actually born "Samuel Adams Wisner," is a 27 year-old Boston native. He started off his rapping career while attending Trinity College in Connecticut. In 2009, Adams was only a senior in college when he wrote his first rap, "I Hate College" which is a remix of Asher Roth's "I Love College" (a big hit among college students). This song made Adams an internet sensation – as it is catchy and popular with anyone who is currently, or who has ever, attended college. From there, Adam's popularity increased dramatically, and his musical career really began.
Adams created an EP shortly after unveiling "I Hate College," titled, "Boston Boy." Along with his EP, Adams also created two mixtape releases, "Boston's Opening Day" and "Party Records." "Boston Boy" reached number one on iTunes "hip-hop" chart, trumping Lil Wayne. The most popular song from this EP was "Driving Me Crazy," which reached number eight on iTunes "hip hop singles" chart.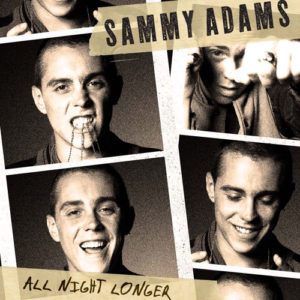 Adams has performed with well-known artists such as Drake, 3OH!3, LMFAO and Mike Posner. One of Adam's most popular songs is "All Night Longer" which was released on August 20, 2012. Along with remixing Roth's "I Hate College," Adams also remixed the popular Taylor Swift song "Trouble"  from her album "Red."
A Trip Down Springfest Lane
Sammy Adams has quite a different sound than last year's Springfest performer, The Ready Set. The Ready Set is an alternative pop band which is also not exceedingly 'mainstream,' but known by students appreciative of pop-punk. After Springfest 2013, some students (including myself) began listening to more of the Ready Set's rather catchy tunes.
Stephanie Mamo, a sophomore here at Monmouth, said: "I had heard only some of the Ready Set's songs, but after Springfest, I became obsessed with them. I only know one or two of Sammy Adam's songs so I'm hoping the same thing will happen with him (this year)."
It seems as though the performers at Springfest in recent years have become gateways toward students pushing their own musical boundaries.
Whatever music preferences Monmouth University students may have, whether it be hip-hop, like Sammy Adams, alternative pop, like the Ready Set, or anything in between, one thing is certain – most likely, students will have a ball at this upcoming Springfest.
Along with Sammy Adams' headlining performance on May 4, the event will also feature refreshments, games and all sorts of pleasures to help students escape the grind of of schoolwork for a few hours.